Jackie Chan vs Bruce Lee 每 who will win?
(AP)
Updated: 2005-11-27 10:56
HONG KONG: It would be the ultimate on-screen duel: Jackie Chan versus Bruce Lee, fight to the death. Who would win?
Chan has an opinion. ※I don't think I could have beaten him in a fight, and I wouldn't have been dumb enough to try,'' Chan said in his autobiography I am Jackie Chan: My Life in Action.
Yet, while Lee was a killing machine, Chan has pioneered his own brand of action moves, mixing kung fu, death-defying stunts and physical comedy.
Lee's movies tend to revolve around the late actor crushing hordes of opponents, often enemies of the working class or Chinese.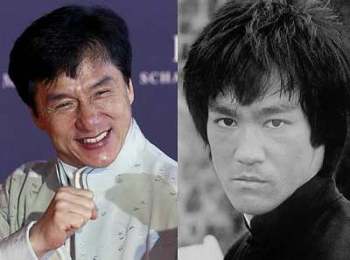 Martial Arts Stars: Chan (left) and Lee offer a stark contrast in styles and philosophies. [AP]
Chan's stories are more varied and light-hearted.
Two of the biggest Chinese movie stars in history offer a stark contrast in styles and philosophies.
Lee's roots are genuine kung fu. He even pioneered his own method of fighting, Jeet Kune Do (Way of the Intercepting Fist), which draws from various martial arts disciplines.
The sheer force of Lee's presence is best captured in kill mode, when Lee resembles the cartoon character Hulk.
He turns primal, licking his blood, letting out barbaric screams. Lee's fist shudders after some punches.
In Fists of Fury, also known as The Big Boss, Lee exacts revenge on his boss for the death of his fellow factory workers.
It's total bloodshed, bodies everywhere, with Lee the last one standing. He's a real-life superhero, invincible no matter the odds.
Chan is a defensive, improvisational fighter. His movements are acrobatic, dance-like 每 the influence of his Peking Opera training.
Chan rarely dominates his opponents. He uses every available prop on hand in fights, be it a table or a chair.
※By contrast, Jackie is much more the 'ordinary guy' forced to do extraordinary things,'' film scholar David Bordwell, author of Planet Hong Kong: Popular Cinema and the Art of Entertainment, said.
Indeed, Chan likes to dwell on his mortality as a source of humour.
In one Project A scene, after one round of fighting, Chan and his opponent duck aside and display pained expressions.
Chan always looks panicked; Lee is forever in command.
Chan is known for performing daring stunts, almost doing stunts for the sake of doing them.
Lee's movies can be chest-thumping celebrations of Chinese ethnic pride.
In The Chinese Connection, Lee plays a kung fu fighter who takes on rival Japanese behind his master's murder.
He kicks aloft a park sign that says, ※no dogs and Chinese allowed'', leaps in the air and shatters the sign with a kick.
But Lee's movies are so dependent on his personality they often have little in the way of plot.
A typical plot is an outnumbered Lee going berserk and dominating his opponents.
Even Lee fans concede this point.
※If you look at Bruce Lee movies, to be honest, some plots are really bad. You're purely watching his individual performance,'' said Wong Yiu-keung, chairman of the Hong Kong-based Bruce Lee Club.
Chan's movies are better productions.
A Lee-Chan comparison is not entirely fair.
Lee died of an edema at the age of 32 in 1973, with just four completed movies under his belt.
Unlike the 51-year-old Chan, he did not have the chance to develop his career.