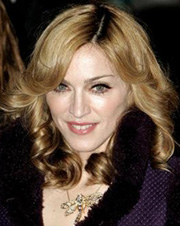 Madonna arrives at the world premiere of 'Harry Potter and the Goblet of Fire' at Leicester Square, London, November 6, 2005.
Venerable pop icon Madonna danced to the top of the U.S. pop album charts for the sixth time in her career on Wednesday with her third consecutive No. 1 release, "Confessions on a Dance Floor."
Her Warner Bros. disc sold nearly 350,000 copies in the week ended November 20, according to Nielsen SoundScan, and ranks as her third-largest sales week in the tracking firm's 14-year history.
The album and its single "Hung Up" also are No. 1 on the respective British charts. The single is in the top-10 of the U.S. charts.
First-week U.S. sales for "Confessions" fell far short of those for Madonna's 2000 album "Music," which opened at No. 1 with 420,000 copies, but handily eclipsed those of her most recent previous release, "American Life," which started off with 241,000 copies in 2003 and quickly fizzled, according to Nielsen SoundScan.
Her best-selling album in recent years is the Grammy-winning "Ray of Light," which opened at No. 2 with 371,000 copies in 1998, just behind the unsinkable "Titanic" soundtrack.
Last week's chart champion, country star Kenny Chesney's "The Road and the Radio," fell two places to No. 3. In between, was the debut release from "American Idol" winner Carrie Underwood, "Some Hearts".
Mariah Carey's hit comeback album "The Emancipation of Mimi," reissued as a "platinum edition" with bonus tracks, jumped 11 places to No. 4 with sales of 185,000 copies.
According to trade publication Billboard, overall U.S. album sales hit 13.1 million units, up 10 percent over the previous week but about 10 percent lower than the year-ago period. Year-to-date, sales are down by about 14 percent at 492 million units.
Warner Bros. Records is a unit of Warner Music Group Corp.

(Agencies)
流行乐坛"大姐大"麦当娜的新专辑《Confessions on a Dance Floor》(《舞池里的告白》)于本周三登上美国流行音乐专辑排行榜首,这是麦当娜的专辑第六次登上冠军宝座,也是连续第三次夺得第一。
据尼尔森唱片市场调查公司统计,截至11月20日,华纳兄弟唱片公司一周内出售了近35万张麦当娜的新专辑,由此创下唱片公司14年来麦当娜的第三大"畅销周"。
新专辑和其中的一首单曲《心神不宁》双双跻身英国流行音乐专辑榜和金曲榜榜首。《心神不宁》名列美国流行乐榜单前十。
新专辑《告白》在美国第一周的销售量虽不及麦当娜2000年的专辑《音乐》,当时,《音乐》专辑以42万张的周销售量占据第一,但与最近一张2003年的名为《美国生活》的专辑相比,新专辑增色不少。据尼尔森唱片市场调查公司统计,《美国生活》的首周销售量达24.1万张,而之后却迅速下滑。
麦当娜近几年最畅销的专辑要数获得格莱美大奖的《光芒万丈》,这张专辑发行于1998年,上市第一周销量达到37.1万张,仅次于永不沉落的《泰坦尼克号》主题曲大碟,排行第二。
上周的榜上冠军是乡村歌手肯尼·切斯尼的专辑《路和收音机》,本周下滑两个榜位排在第三,本周第二名是"美国偶像"获得者卡丽·安德伍德的处女专辑《心》。
玛丽亚·凯莉的回归专辑《我心不羁》人气颇旺,唱片公司趁势推出"白金版",内有附赠歌曲。《我心不羁》上升了11位排在第四,本周销量达到18.5万张。
《Billboard》杂志公布的销售记录显示,本周全美专辑的销售量达到1310万,比上周多10%,但比去年同期下降了10%。今年截至到目前为止,专辑的总销售量比去年下跌了约14%,为49.2万张。
华纳兄弟唱片公司是华纳音乐集团旗下的公司。
(中国日报网站编译)