Merkel stresses France ties, reaches out to US on maiden voyage
(AFP)
Updated: 2005-11-24 11:36
German Chancellor Angela Merkel made her debut as a leader on the international stage, underscoring the strength of the Franco-German alliance with President Jacques Chirac and calling for better relations with the United States.
In talks with European leaders, Germany's youngest and first woman head of government committed to integration -- striving to breathe life into the EU's moribund constitution -- but she refused to speculate about whether the budget crisis can be resolved next month.
Merkel, who took office Tuesday, made France her first foreign destination as leader of Europe's biggest economy in a gesture seen as affirmation of the strength of their partnership.
"This is not about ritual, it is about a deep conviction that a strong relationship between Germany and France is both necessary and beneficial for Europe," she told reporters following lunch with Chirac at the Elysee.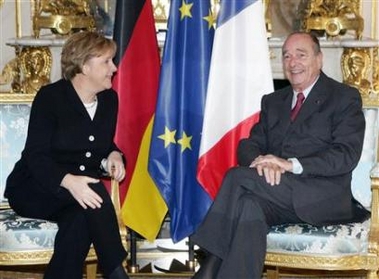 France's President Jacques Chirac (R) poses with German Chancellor Angela Merkel before talks at the Elysee Palace in Paris November 23, 2005.[Reuters]

Later in Brussels, she said she wanted closer ties with the United States, badly soured by the fierce opposition of her predecessor, Gerhard Schroeder, against the US-led war on Iraq.

"I believe the ties between the US and Germany can be developed further," she said after talks with NATO Secretary General Jaap de Hoop Scheffer.

Merkel had been widely expected to reaffirm Berlin's commitment to its ties with Paris, a relationship developed over decades that has become a motor for greater European integration but at times has irked other EU countries.

Chirac said the two nations were united in their wish for "a political and social Europe" and that "a truly strong Franco-German axis" was necessary for the 25-member European Union.

Calling their countries' reconciliation following World War II a "miracle" of history, Merkel said the "relationship must be nurtured, must continue to develop, must remain full of life."

"I believe the challenges of globalization force us to act together in Europe: Germany and France, with their notions about the social market economy, about globalization, should be driving forces," she said.

She stressed that France and Germany had a "shared duty" to help development of the new EU states of central and eastern Europe.

In Brussels, however, Merkel struck a more transatlantic tone, stressing the importance of NATO as a pillar of stability -- a theme shared by Washington.

"NATO should be, I believe, the place where people turn first, where member states turn first, to discuss political issues of common concern," she said.

"First and foremost we should try to pursue the approach that NATO is the place for such discussions," she said.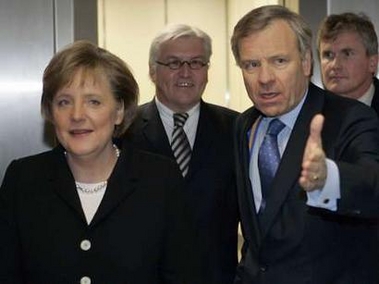 German Chancellor Angela Merkel (L) and Foreign Minister Frank-Walter Steinmeier (C) stand with NATO Secretary-General Jaap de Hoop Scheffer (R) during their meeting in Brussels November 23, 2005.[Reuters]

"I believe that is very necessary... only that way can we see to it that NATO continues to be a political alliance."

Merkel has made repairing ties with Washington a key aim, and in London she is expected to hold out the prospect of better relations with Blair when she visits him on Thursday than those he had with Schroeder.

Schroeder and Blair had seemed political bedfellows in the late 1990s, but their relationship soured over the Iraq war, which Blair supported.

As well as her first official meetings with Chirac and Blair, Merkel, who was accompanied by her new foreign minister, Frank-Walter Steinmeier, was to use the trip to begin preparing for her first EU summit as chancellor.

Efforts to reach a long-awaited breakthrough on the bloc's 2007-13 budget will dominate a potentially fraught Brussels summit in mid-December.

"My visit to London tomorrow will no doubt be an important building block leading up to the council meeting," she said.

"Germany will try to play a constructive part in these discussions," she added, but refused to say whether she thought an agreement was possible.

On another key EU issue, Merkel threw out a lifeline to the EU's constitution, which was meant to improve decision making but has been put on hold while the bloc undertakes a "period of reflection" since French and Dutch voters rejected the constitution in referendums in May and June.

"We should not give up on the constitutional treaty," she said. "We are willing to do what is necessary to see the constitution enter into force."