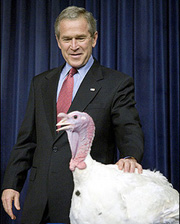 President Bush pets the national Thanksgiving turkey Marshmallow during a ceremony pardoning the turkey in the Old Executive Office Building, Tuesday, Nov. 22, 2005.
President Bush spared two turkeys from becoming Thanksgiving dinner. Instead, the birds are going to Disneyland.
Thousands of people voted on the White House Web site to name the national turkey "Marshmallow" and an alternate called "Yam."
At a ceremony Tuesday, Bush peered into Marshmallow's eyes, stroked its white fluffy feathers and patted its red head.
In years past, turkeys spared in presidential ceremonies were sent to live at a local farm.
This year, the turkeys will be honorary grand marshals at Disneyland's Thanksgiving Day Parade.
"I know Marshmallow and Yam are going to feel pretty good strutting around sunny California, remembering the cold days of Minnesota," Bush said.
The turkey ceremony, which usually is held in the Rose Garden, was moved inside to the Eisenhower Executive Office Building.
Vice President Dick Cheney looked on as Bush talked of giving thanks for the generosity extended to the victims of the Gulf Coast hurricanes and for U.S. troops serving abroad.
"We think of our military families who will have an empty seat at the table this Thanksgiving," he said.
Later in the day, Bush, his wife, Laura, and two daughters, Jenna and Barbara, left to celebrate the holiday at their Texas ranch.
"Happy Thanksgiving," Bush called out as he headed across the South Lawn to Marine One.
People for the Ethical Treatment of Animals, which in the past has been critical because presidential turkeys have been sent to a working farm rather than an animal sanctuary, praised the decision to send them to Disneyland.

(Agencies)
美国总统布什赦免了两只即将成为感恩节晚餐的火鸡,这两只被放生火鸡将被送往迪斯尼乐园。
数千网民在白宫的官方网站将这两只"国家火鸡"分别命名为"果汁软糖"和"山药"。
在周二举行的放生仪式上,布什看着"果汁软糖"的眼睛,轻抚它身上的白色绒毛,还拍了拍它红色的鸡冠。
过去,在总统举行的仪式上被放生的火鸡一般会被送到当地的农场去颐养天年。
今年,这两只火鸡将作为名誉司仪参加迪斯尼乐园的感恩节游行活动。
"我知道当'果汁软糖'和'山药'在加利福尼亚暖洋洋的阳光下漫步时,想起以前明尼苏达州寒冷的日子,它们一定会感觉非常好,"布什说。
通常火鸡放生仪式都在白宫玫瑰花园举行,不过今年的仪式转移到了艾森豪威尔办公楼内举行。
布什说要感谢人们对墨西哥湾沿岸卡特里娜飓风受害者的慷慨关怀,还要感谢驻扎海外的美国军队表示感谢,副总统迪克·切尼在一边看着他。
布什说:"在感恩节到来的时候,我们想起了那些不能与亲人团聚的美国军人家庭。"
22日晚些时候,布什和妻子劳拉以及两个女儿詹纳和芭芭拉将离开白宫回到德克萨斯州的农场庆祝感恩节。
"感恩节快乐!"布什穿过南草坪走向"海军一号"时大声说道。
人道对待动物协会曾经因为被总统放生的火鸡被送到农场而不是动物避难所而提出抗议,这次,他们对布什总统将火鸡送往迪斯尼乐园的做法称赞不已。
(中国日报网站薛晓文编译)