Nestle recalls baby milk from 4 nations
(AP)
Updated: 2005-11-24 09:04
Nestle SA, the world's biggest food company, said Tuesday it has recalled hundreds of thousands of gallons of baby milk from France, Portugal, Spain and Italy after traces of ink from the packaging were found in the product.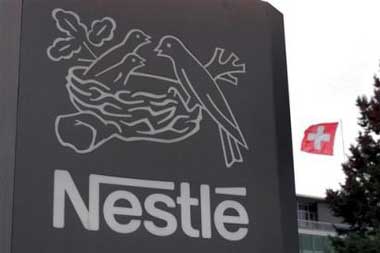 A swiss flag flutters over Nestle's headquarters in Vevey, Switzerland, in this Feb. 28, 2002 file photo. Authorities in Italy Tuesday, Nov. 22, 2005 have ordered the confiscation of about 30 million liters (8 million gallons) of baby milk produced by Swiss company Nestle' SA that they say was contaminated by a chemical that leaked from the packaging, the forest authority said. [AP]
Nestle spokesman Francois-Xavier Perroud said the substance posed no health risk.
Routine tests in Italy in the fall had revealed presence of isopropylthioxanthone in its Latte Mio and Nidina 1 and 2 milk brands, he said.
Perroud said most milk, up to 530,000 gallons, was recalled in Italy, and "much smaller" amounts in France, Spain and Portugal.
"We are sad that the packaging material that we bought from a reliable source did not live up to the standards that we expect," Perroud said. "We are replacing every single (contaminated) product that you can lay your hands on."
He said the baby milk was packaged in Spain.
"This decision was taken as an extreme precautionary measure to reassure consumers even if, based on the declarations of the packaging supplier and a rigorous analysis of available facts also conducted by independent bodies, Nestle believes that the level of ITX measured in the tested products does not represent a health risk," the company said.
Cristina Attina, an official with forest rangers which oversee food safety regulations in Italy, said a batch of milk due to expire in September 2006 had been contaminated by a chemical that leaked from the packaging.
Authorities in Italy had earlier said they about 8 million gallons of baby milk confiscated, but Perroud denied the reports.
Nestle Italy said it had withdrawn the milk in question from the Italian market and that new liquid milks using alternative packages have since been distributed.
Nestle shares closed down 0.7 percent at 395.50 Swiss francs ($299.76) on the Zurich exchange.