Beauty queen sparks ugly debate in Shenzhen
By Chen Hong (China Daily)
Updated: 2005-11-24 05:44
SHENZHEN: A victorious beauty queen has whipped up a storm of controversy in Shenzhen.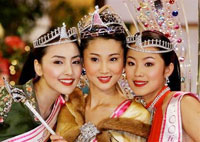 Miss Asia winner Kitty Wang (Wang Lei) of China, center, poses with first runner-up Hong In Young of Korea, left, and second runner-up Anna Zhai of China, after winning the 2005 Miss Asia Pageant contest in Hong Kong Oct. 4, 2005. [AP]

Wang Lei's status as Miss Asia 2005 , a title won in Hong Kong in October, has been no cause for protest.

It is the awarding of a permanent residency permit that has caused tempers to fray.

The 20-year-old model, who moved to Shenzhen from Northeast China's Harbin just three years ago, was recently granted registered permanent residency of the booming southern city, to the anger of millions of migrant workers.

They say it is unfair Wang should be granted residency just for being beautiful when they have no chance of being registered even if they put in years of labour.

When Wang made her victorious return to Shenzhen from Hong Kong a month ago, she could not help letting slip her wish to become a Shenzhener.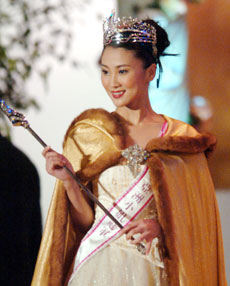 "Shenzhen is my second hometown and I wish I could become a real Shenzhen citizen," she told reporters.
The Shenzhen Bureau of Labour and Social Security offered her permanent residency shortly after hearing the news.
Residency, they said, was granted because of Wang's "special expertise" in the "cultural industry."
Wang became an officially registered Shenzhener on Monday.
The bureau explained that its cultural industry is in great need of talent and Wang, a prize winner in her field, deserves the privilege.
Many migrant labourers see the case as one of blatant double standards.