Woman dies of bird flu, vaccine trials to start
By Zhao Huanxin (China Daily)
Updated: 2005-11-24 05:40
As China reported its third case of human bird flu Wednesday, the only company in the nation approved to test a vaccine for humans said that clinical trials on volunteers would start in days.
The Ministry of Health said a 35-year-old woman farmer surnamed Xu of East China's Anhui Province developed fever and pneumonia-like symptoms on November 11 after contact with sick and dead poultry. She died on Tuesday.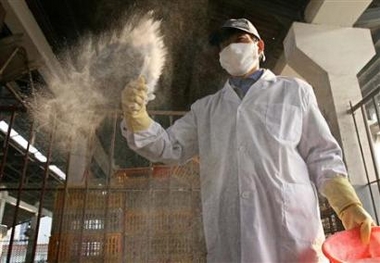 A Chinese worker disinfects a poultry market in Shanghai November 22, 2005. [Reuters]
Tests on the woman, a resident of Xiuning County, were positive for the deadly H5N1 strain of the virus, said China's Centre for Disease Control and Prevention.
The ministry has reported the new confirmed case to the World Health Organization (WHO), according to the WHO Beijing Office.
Meanwhile, a new bird flu outbreak was reported in Miquan of Xinjiang Uygur Autonomous Region, the Ministry of Agriculture said last night.
More than 2,000 chickens were killed by the deadly H5N1 virus on November 15. So far 84,000 poultry have been culled to curb the spread of the disease.
As fears of person-to-person transmission grow with each new case of human or poultry infection, Beijing-based Sinovac Biotech Ltd said it would be the first company in Asia to begin human testing after it won fast-track State approval for the trials on Tuesday.
The State Food and Drug Administration, the country's drug watchdog, has approved the first phase of trials, company spokesperson Lu Zhenyou told China Daily.
It might take at least a year before the "pandemic influenza vaccine" finishes its two-phase clinical trials, Lu said.
Sinovac and a group of experts were putting the final touches on the clinical trial plan involving 100 healthy volunteers between the ages of 18 and 60, Lu said.
Pre-clinical trials have proved the vaccine is safe and effective, experts at the drug regulator said.
When approved, the vaccine will first be used on high-risk groups such as veterinary and laboratory workers and poultry farmers in afflicted regions, Lu said.