Sick teacher in Hunan negative for H5N1: WHO
(AP)
Updated: 2005-11-23 14:19
Blood tests on a schoolteacher who fell ill in Hunan Province that suffered a bird flu outbreak show he doesn't have the virulent H5N1 strain of the virus, a World Health Organization official said Wednesday.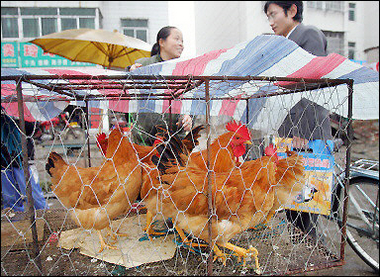 A customer discusses chicken prices with a vendor at a streetside stall on the outskirts of Anqing. The bird flu crisis in China is 'severe' and set to get worse as winter deepens, the government said as it revealed there had been 21 outbreaks. [AFP]


The teacher lived in the same central county as a 9-year-old boy who was one of China's first human cases. The boy's 12-year-old sister, who died, was a suspected case.

"Based on an extensive range of blood tests, he's been excluded as a case of H5N1," the virulent strain of the disease, said Dr. Julie Hall, an infectious diseases specialist for the WHO's Beijing office.

A woman who died in eastern China was the country's first confirmed bird flu fatality.

The 36-year-old teacher fell ill after chopping raw chicken, according to the government. He lived in a county in Hunan province that suffered one of China's first bird flu outbreaks in the recent series of cases.

He was hospitalized and Hall said she didn't know whether he had been released.

Chinese experts initially said the teacher and the two siblings tested negative for H5N1. But it later reopened the investigation and asked the WHO for help. Hall was a member of the WHO team that traveled to Hunan to work with Chinese experts.

The WHO announcement came after China reported three new outbreaks in poultry, bringing its total number of cases to 20 since October 19.

China has reported new outbreaks almost daily despite a nationwide effort to vaccinate billions of poultry.

The latest cases occurred in the northwestern cities of Urumqi and Yinchuan and in the southern province of Yunnan. Some 2,768 birds died and nearly 175,000 were destroyed in order to contain the virus.

On Tuesday, a Foreign Ministry spokesman said China was stepping up measures to fight a "serious epidemic" of bird flu.

"We are still facing serious challenges in terms of prevention of bird flu," said spokesman Liu Jianchao. "We will step up our efforts in order to resolve this bird flu issue as soon as possible."