Ukraine marks 'orange revolution' anniversary
(AFP)
Updated: 2005-11-23 10:38
Ukrainian President Viktor Yushchenko vowed that Ukraine was on the right path as the ex-Soviet nation marked the first anniversary of its "orange revolution," the mass protests that ousted an entrenched pro-Russian government.
"I want to tell those whose hands have dropped, whose head is bowed: Friends... I assure you that we are on the sole right path, the path of freedom and justice for each person," Yushchenko told a cheering, 100,000-strong crowd in Kiev's central Independence Square, the epicenter of last year's revolution.
The Ukrainian president called on the revolution's dream team -- the political forces who supported him during the protests but have since split up amid furious infighting -- to unite ahead of next year's key parliamentary elections, which Yushchenko needs to win in order to continue his pro-Western policies.
"The team behind me must be united," he said to roars from the crowd, referring to leaders of political parties who joined him on the stage, including fiery Yulia Tymoshenko, who split with the Ukrainian leader after he fired her as prime minister two months ago.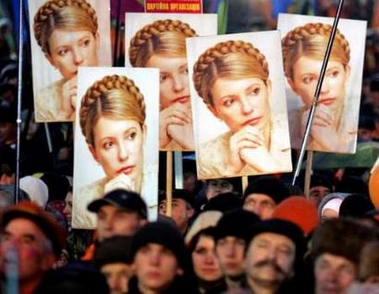 Ukrainian demonstrators hold a portraits of sacked Prime Minister Yulia Tymoshenko during a rally at the Indepedence Square in Kiev, November 22, 2005.[Reuters]

"The 2006 election... is an answer to the question of whether we will be able to save what we earned 12 months ago and call Ukrainian freedom and Ukrainian democracy," Yushchenko said.

Tymoshenko, who addressed the crowd before the Ukrainian president, warned that "today a comeback (by the former regime) is possible as never before. I don't want us to let our guard down."

Yushchenko, who gave Tymoshenko a perfunctory peck on the cheek that fell some way short of a sign of reconciliation, spoke from a stage set up in the middle of Independence Square, where a year ago he launched the 17 days of peaceful protests against a rigged presidential vote.

The demonstrations captivated the world, and in vital ways broke Russia's traditional dominance over the ex-Soviet nation.

It also split the country. While the agrarian, nationalist, Ukrainian-speaking west backed Yushchenko in the standoff, the pro-Moscow, Russian-speaking east supported his electoral rival, former prime minister Viktor Yanukovich, and the division is still deeply felt.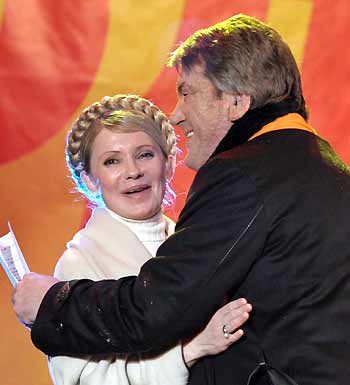 Ukrainian President Viktor Yushchenko greets sacked Prime Minister Yulia Tymoshenko during a huge rally at the Independence Square in Kiev, November 22, 2005.[Reuters]

While central Kiev once again turned orange Tuesday, rallies featuring blue and white -- the color of Yanukovich's campaign -- were held in the eastern city of Donetsk and in the southern Crimean peninsula, which supported Yanukovich during last year's ballot.

"This isn't a holiday for us," one Donetsk resident told Ukrainian television. "Today is a day of regret," said another.

Yushchenko assumed power on vows of turning Ukraine, which for hundreds of years was under Russian influence, on a pro-Western course, including eventual membership in the European Union and the North Atlantic Treaty Organization.

Despite the national divisions during the protests, Yushchenko's approval rating stood at nearly 73 percent three months after his inauguration in late January.

But a lack of progress on reforms, corruption accusations against his entourage and the split of the "orange" team has left many revolution supporters disenchanted and have sent the ratings tumbling to just above 50 percent in October.

Nevertheless, Ukraine today is a different place from what it was a year ago -- media scrutinize the government, competition among political parties is flourishing and the country is surely, albeit slowly, moving on its pro-European course, with the European Union having recently begun negotiations on facilitating the visa regime with Kiev.

"This is a celebration of freedom," said Alexander Safonov, a 42-year-old sailor and Kiev native who attended Tuesday's celebrations with his wife. "Of course I'm a little bit disappointed... but at least now we have hope for the future."