CPC not pursuing a road of tyranny - scholar
(Xinhua)
Updated: 2005-11-23 09:06
The Communist Party of China (CPC) is a party that seeks peace, harmony and reconciliation, unlike the Communist Party of the former Soviet Union (or CCCP), a prominent Chinese scholar said Tuesday.
"It's totally unfounded to assume that as it is called a communist party, the CPC will undoubtedly pursue the road of tyranny at home and expansion abroad adopted by the CCCP under Brezhnev," said Zheng Bijian, chairman of the China Reform Forum.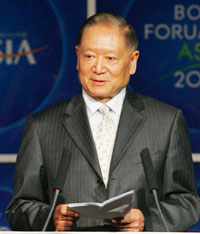 Zheng Bijian, chairman of the China Reform Forum, speaks at a meeting this April 24, 2005 file photo. [newsphoto]

Zheng, a major contributor to China's peaceful rise theory, enunciated the peaceful nature of the CPC in an article entitled "Trends of the Communist Party of China in the 21st Century" on the front page of Tuesday's overseas edition of the People's Daily, China's leading newspaper.

Referring to Sino-US relations, which he refers to as the most important and most complex bilateral relations for both China and the United States, Zheng said the issue of fundamental importance to facilitating communication and understanding between the two sides on a long run is "how to view the CPC and its overall trends in the 21st century."

"I think I shall start with the different approaches of the CPC and its Soviet peer in 1979," acknowledged Zheng, who also served as former vice-president of the Party School of the CPC Central Committee.

That year, the former Soviet Communist Party led by late General Secretary Brezhnev made a rash decision to intrude into Afghanistan in an endeavor to seek world hegemony under the slogan of "world revolution", he recalled. The CPC, nevertheless, on the contrary made a historical wise decision to carry out reform and open itself to the outside world and to embarked on a road focused on economic growth and building socialism with Chinese characteristics.

Moreover, the CPC neither had intention to challenge the international order nor stood for altering or subverting it with violent means, he noted.

"Economic globalization provides China with means to gain access to international resources for its modernization drive through the market, rather than through expansion and fighting grab the resources of other countries," he said.