Suicide bomber kills 21 in Iraq; 3 GIs die
(AP)
Updated: 2005-11-23 08:37
A suicide car bomber killed 21 people in northern Iraq on Tuesday after insurgents lured police to the scene by shooting an officer, officials said.
The U.S. command said three more U.S. soldiers have been killed, pushing the American military death toll for the conflict to 2,100.
Elsewhere, insurgents fired a mortar shell at a U.S. ceremony transferring one of Saddam Hussein's palaces in Tikrit to Iraqi control. The shell failed to explode but sent the U.S. ambassador, the top American commander and robed tribal sheiks scurrying for cover as the round whistled overhead.
The suicide bomber struck on a busy commercial street in Kirkuk, a mixed Arab, Kurdish and Turkoman city in an oil-producing region 180 miles north of Baghdad. About half the dead were police who rushed to the scene after gunmen killed a fellow officer.
In addition to the 21 dead, another 24 people were wounded, according to police Brig. Gen. Sarhad Qader.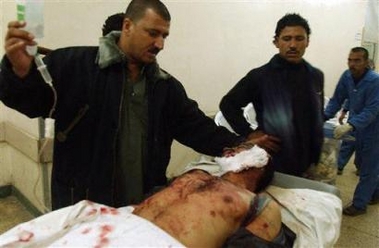 A man is treted at a local hospital after being wounded by suicide car bomber in Kirkuk, Iraq, Tuesday, Nov. 22, 2005. [AP]

The attack was the latest in a wave of spectacular suicide operations that have killed more than 160 Iraqis since Friday. Most of the victims were Shiites.

American military casualty tolls have also been on the rise. In the latest reports, the U.S. command said a soldier was killed Monday by a roadside bomb near Habaniyah, 50 miles west of Baghdad.

Two other soldiers from Task Force Freedom were killed Saturday by small arms fire while on patrol in Mosul, 225 miles northwest of Baghdad, a U.S. statement said.

Those deaths raised the number of U.S. service members who have died since the Iraq war began in March 2003 to at least 2,100, according to an Associated Press count. At least 1,638 died as a result of hostile action, according to the military's figures.

U.S. officials sought to downplay the mortar attack in Tikrit, 80 miles north of Baghdad, noting that the lone shell failed to explode or to interfere with the handover.

"This was an ineffectual attempt to stop the progress that goes on every day in Iraq," said Lt. Col. Barry Johnson, a spokesman for the U.S. command in Baghdad.