China confirmed three new bird flu outbreaks
By Fu Jing and Cao Li (China Daily)
Updated: 2005-11-23 06:19
Ministry of Agriculture yesterday confirmed bird flu outbreaks in Northwest China's Xinjiang Uygur Autonomous Region, Northwest China's Ningxia Hui Autonomous Region, and Southwest China's Yunnan Province.
It said in a statement that 38 fowls died last Wednesday in the Dabancheng District of Urumqi in Xinjiang. A State avian flu lab confirmed that they were highly pathogenic bird flu cases.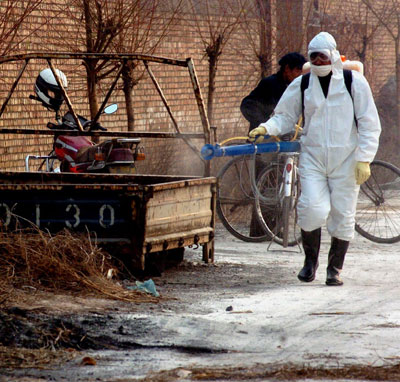 A health worker sprays disinfectant at a village in Xiaoyi, North China's Shanxi Province November 20, 2005. The region reported a bird flu outbreak last week. [Xinhua]
Meanwhile, the same kind of bird flu killed 2,500 poultry in Chuxiong of Yunnan on Thursday.
The disease also killed 230 poultry on Thursday in Yinchuan, capital of Ningxia.
The Ministry of Agriculture has sent teams of experts to help control the disease, and local veterinary departments have culled the poultry within 3 kilometres of the affected area. They have culled 8,388 fowls in Xinjiang, 99,400 in Yunnan, and 66,800 in Ningxia, according to the statement.
The effects of the outbreaks of bird flu are being felt across the country as the authorities tighten measures to curb the epidemic.
Following the footsteps of Beijing, South China's Guangzhou and Northwest China's Urumqi have closed their live-fowl markets. And Shanghai is about to do so in a day or two.
Vice-Minister of Agriculture Yin Chengjie said China faces a tough challenge as the temperature drops.
"As it turns colder, the risk of more outbreaks is increasing," China Central Television quoted Yin as saying.
Wang Li, who owns a small restaurant in Handan, North China's Hebei Province, seemed resigned to the prospect of dwindling sales.
"Fewer and fewer guests are eating poultry, especially chicken," said Wang, 30, who does not expect a quick turnaround in business.
During the past two months, daily average revenue decreased to 1,500 yuan (US$184) from 2,500 yuan (US$308), Wang said.
According to the Ministry of Agriculture, 144,624 head of poultry died of bird flu in the past few months, prompting the culling of 21.18 million more in affected areas.
In Beijing, some hospitals are checking the temperatures of visitors or patients at the gate and those who register more than 37.5 C are taken to a special facility.
The Shanghai municipal government on Sunday ordered all hospitals to report any patients with high fever.
Zhongshan Hospital, for example, had 54 patients with fever on Monday and yesterday "but none had the bird flu virus," said an official.
Apart from the 464 markets that are designated to sell fowl, Shanghai will ban sales in any other place.
A businessman, surnamed Wang, at Shanghai Wanshang Flower and Bird Market along downtown South Xizang Road said that officials from the district industry and commerce bureau informed all the bird sellers yesterday to close the business in two days.
(China Daily 11/23/2005 page2)