Harbin cuts water supply for pollution fear
(China Daily/chinadaily.com.cn)
Updated: 2005-11-23 06:14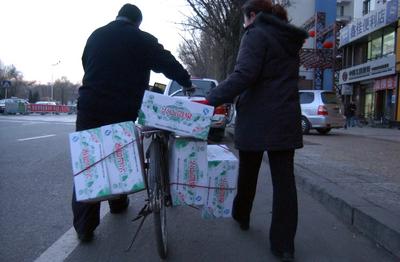 Two residents carry boxes of bottled water in Harbin, Northeast China's Heilongjiang Province November 21, 2005. [China Foto Press]
They did remain calm but were not taking any chances.
"I have filled all the utensils at home, six basins, two thermos flasks and an urn," said Zhao Yunpeng, a salesman. "We have never experienced something like this, so it's better to be prepared.
"Anyway, who knows when the supply will be resumed?"
Zhang Yan, from Harbin Shangri-la, said the hotel stored 600 tons of water in a tank.
The hotel apologized to its guests for the inconvenience and asked them not to waste water.
Harbin Railway Station said that it has more than 100 deep wells between railway lines.
"We usually supply the trains with well water," said Liu Hailou, from the railway station. "We will heat the water pumped from the wells to supply drinking water for passengers."
Meanwhile, the Harbin Education Bureau ordered all primary and middle schools to suspend classes from tomorrow till Monday.
The price bureau issued an emergency order stating that merchants should not take advantage of the shortage to raise prices.
"The water price should be no higher than that on November 20," said a spokeswoman for the bureau, which did not specify what penalty awaits violators.
Operations at main factories in Harbin remained normal. The three most famous factories Harbin Boiler Factory, Harbin Electrical Machine Factory and Harbin Steam Turbine Plant all said they had taken effective measures to ensure their companies operate normally and safely.
(China Daily 11/23/2005 page1)