China may revise 'green card' procedures
By Zhu Zhe (China Daily)
Updated: 2005-11-23 06:14
Procedures for granting permanent-resident status to foreigners akin to the "green card" in the United States may be revised, a senior official said yesterday.
"We've heard complaints that the existing requirements for foreigners to get permanent residence in China are too stringent, and we're studying possible changes," Cui Zhikun, director of the Bureau of Exit-Entry Administration of the Ministry of Public Security, said in Beijing.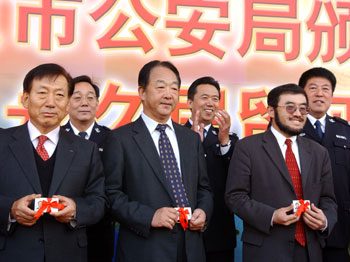 Three foreigners display their green cards at a ceremony in Beijing November 22, 2005. [Xinhua]
He declined to reveal details, only noting that any change would not take place in the next few months.
According to stipulations implemented since last August, foreigners eligible for permanent residence are those who:
hold senior posts in China
make large direct investment in China
made outstanding contributions or are of special importance to China
live in China with their families for more than five years.
Holders of permanent-residence cards are allowed to live in the country for any length of time and travel in and out without visas.
Bureau figures show that only 687 foreigners of the 1,835 who applied were granted permanent residence.
There are about 260,000 foreigners holding stable jobs, according to the State Administration of Foreign Experts Affairs.
"I intended to apply for the card last year, but I failed to meet the high standard," said 29-year-old Algerian Omran Abdelkader, who has lived in China for five years and is a researcher at the Central Academy of Drama.
"I married a Chinese woman three years ago and want to make the country my second home," he said in fluent Chinese. "Many of my friends share my opinion that the standards for permanent residence in China should be lower."
French citizen Irene Thalamy, who went to the Entry-Exit Administrative Division of the Beijing Public Security Bureau yesterday to get permanent residence cards for her 10-year-old and 6-year-old daughters, said she hopes the application procedure is simplified.
"We've been waiting for approval for almost a year, and so many documents are needed for the application," she said. "Though I've lived in the country for 12 years and married a Chinese, my application has not been approved so far."
Director Cui said the bureau pays heed to all the views but "to perfect a regulation needs time."
"And China is not a country targeting immigration," he said. "The regulation is mainly to attract high-level foreign personnel."
Officials also said the number of cities and counties open to foreigners reached 2,650, accounting for 92 per cent of the country's total.
(China Daily 11/23/2005 page1)