Harbin takes emergency measures to ease water shortage
(Xinhua)
Updated: 2005-11-22 20:51
Harbin City in northeast China has taken a series of measures to guarantee its drinking water supply after an emergency suspension of the city's major water network for fears of possible pollution on Tuesday.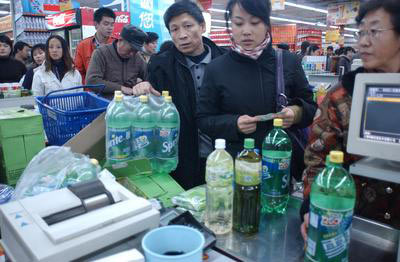 Customers wait to pay for the drinks at a super market in Harbin, Northeast China's Heilongjiang Province November 21, 2005. [China Foto Press]
The municipal government of Harbin, capital of Heilongjiang Province started to use its own water reserve instead of pumping water from its main water source, the Songhua River, whose upper stream has been contaminated by a leakage of poisonous substances caused by a chemical plant blast on November 13.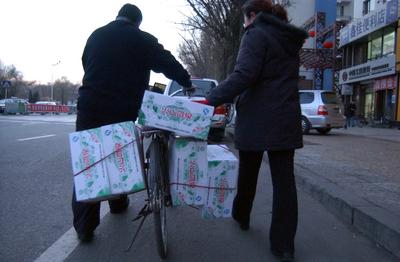 Two residents carry boxes of bottled water in Harbin, Northeast China's Heilongjiang Province November 21, 2005. [China Foto Press]
Sources from the Heilongjiang Provincial Center for Disease Prevention and Control said that 386 wells for spare water reserve in the city are now under quality inspection, which will be used as alternative sources to ease the water shortage.
A local health official said many of the wells have remained spare for a long time. Only those that can meet the drinking water standards will be pumped for household use.
The municipal government said in two separate statements on Monday and Tuesday that the city's water supply system will be shut down for four days as of 8 p.m. Tuesday, for the fear of contamination on the Songhua River.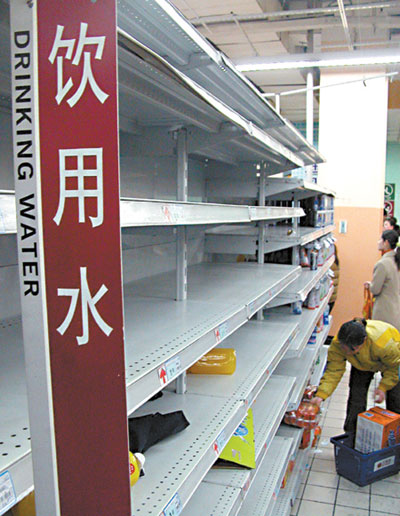 Bottled water is sold out in almost all supermarkets and shops as citizens rushed to stock up following the government announcement about a cut in water supply in Harbin, Northeast China's Heilongjiang Province. Starting from Tuesday noon, the city's water supply will be cut off for four days. [China Daily]
The unexpected stoppage of water supply has sparked the desperate purchase of drinking water in the city of 3 million people. Bottled water, various beverages and even boxed milk were sold out by Tuesday morning in some supermarkets and food stores.
The city has purchased 1,500 tons of bottle water from nearby cities to ease the market shortfall. Meanwhile, Shenyang, capital of northeast China's Liaoning Province has prepared 600 tons of bottle water for Harbin.
Government sources said that daily water supply demand in Harbin is estimated at 18,600 tons. With the support of neighboring cities in northeast China and the use of water reserves, the city will help citizens weather the tough times.