China steps up measures against bird flu
(AP)
Updated: 2005-11-21 19:22
China unveiled new rules to combat bird flu on Monday, threatening fines and police action against people who do not cooperate.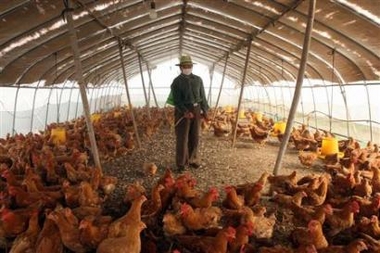 A Chinese farmer spays disinfectant in a chicken coop in Shanghai November 18, 2005. [Reuters]
China has announced 17 outbreaks of the deadly H5N1 strain of avian flu since the middle of last month, and is struggling to control a virus that has been spotted in seven provinces and regions from the frigid northeast to the remote west.
"Although some cases in affected areas have been controlled effectively, the situation as a whole is still severe," Vice Agriculture Minister Yin Chengjie told a news conference.
Yin said 21 million poultry have been culled so far this year, while other officials have said billions of birds would be vaccinated in an effort to contain the disease.
Bird flu outbreaks have to be reported to the State Council, within four hours of being discovered by regional governments, and fines of up to 5,000 yuan can be levied for obstructing prevention work or refusing to comply.
"Any practices which affect the reporting of epidemic diseases, including deception, false or late reporting, are forbidden," Yin said.
If needed, the police and even the army may be called in. Officials could be demoted or fired for not reporting outbreaks.
Quarantine measures have also been stepped up in China, and even North Korea said on Monday it was tightening border controls to stop bird flu.
"China is a large country, and there have been some places where there has been a lack of compliance," said Cao Kangtai, head of the State Council's laws and regulations office.
"Only by taking such severe measures can we guarantee the prevention work," Cao later told Reuters.
Beijing is vowing a new openness in dealing with bird flu.