Louis Vuitton opens flagship shop in Beijing
(cri)
Updated: 2005-11-21 11:42
French luxury-goods maker Louis Vuitton (LV) opened its second store in Beijing on Friday with a new line of collection.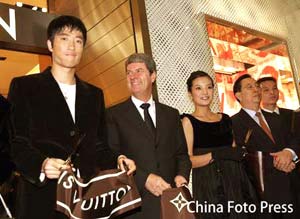 Olympic champion hurdler Liu Xiang (L) and actress Zhao Wei (C) grace the opening ceremony of LV's Beijing new store. [China Photo Press]


The shop sells the complete range of luxury products, including trunks, suitcases, travel bags, leather goods, clothes, shoes and desk accessories. LV's jewellery and watches are also on offer.

Last year, the company opened a similar shop in Shanghai, and it plans to open another in Hong Kong at the beginning of next month.

"We plan to open an average of two to three stores each year in China," said Yves Carcelle, LV's chairman and chief executive officer.

He went on to say that there are at least 10 Chinese cities that the company aims to penetrate, such as Chongqing, Harbin, Shenyang, Wenzhou and Sanya.

Since launching its first store in Beijing in 1992, LV has opened 12 stores in 10 major mainland cities.

Declining to give details of future plans, Carcelle said the firm was always on the look out for the next store in China, which is the company's third largest market in terms of the sales, following Japan and the United States.

Serge Brunschwig, managing director of LV, said all the China shops are making a profit due to the country's strong consumption trends.

"Chinese customers like our products, which carry a lot of tradition, history, excellence in production, and creativity. They (the Chinese customers) like them so we have invested more," he said.

Brunschwig said LV offers a range of products in China so customers with different income levels can afford them.

"We have small key bags, which are about 2,000 yuan (US$227.27), and we also have much higher priced jewellery. Anyone who loves the brand Louis Vuitton can find something they like in our shop," Brunschwig said.

To celebrate the opening of the new Beijing store, LV created Lantern Charm accessories, which are based on the traditional Chinese lantern.

"LV is an universal brand, and we do not make special designs for specific countries, but we do gather ideas from different cultures," Carcelle said.

Due to the difference in consumption taxes and duties, the price of LV products sold on the mainland are about 10 per cent higher than those in Hong Kong and 25 per cent higher than in Europe.

Besides China, LV is progressing rapidly in Russia, India and South Africa.

LV is a brand under the world's largest luxury group, the LVMH Group. It has other famous brands, such as Dior, Celine, Fendi, Guerlain, Hennessy and Tag Heuer.