Japan comic books fan hatred towards China
By Norimitsu Onishi (The New York Times)
Updated: 2005-11-21 09:35
TOKYO - A young Japanese woman in the comic book "Hating the Korean Wave" exclaims, "It's not an exaggeration to say that Japan built the South Korea of today!" In another passage the book states that "there is nothing at all in Korean culture to be proud of."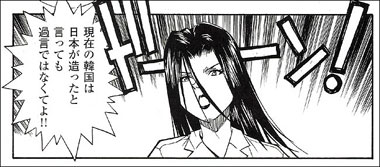 In "Hating the Korean Wave," a young Japanese woman says, "It's not an exaggeration to say that Japan built the South Korea of today!" [Sharin Yamano/Shinyusha]

In another comic book, "Introduction to China," which portrays the Chinese as a depraved people obsessed with cannibalism, a woman of Japanese origin says: "Take the China of today, its principles, thought, literature, art, science, institutions. There's nothing attractive."

The two comic books, portraying Chinese and Koreans as base peoples and advocating confrontation with them, have become runaway best sellers in Japan in the last four months.

In their graphic and unflattering drawings of Japan's fellow Asians and in the unapologetic, often offensive contents of their speech bubbles, the books reveal some of the sentiments underlying Japan's worsening relations with the rest of Asia.

They also point to Japan's longstanding unease with the rest of Asia and its own sense of identity, which is akin to Britain's apartness from the Continent. Much of Japan's history in the last century and a half has been guided by the goal of becoming more like the West and less like Asia. Today, China and South Korea's rise to challenge Japan's position as Asia's economic, diplomatic and cultural leader is inspiring renewed xenophobia against them here.

Kanji Nishio, a scholar of German literature, is honorary chairman of the Japanese Society for History Textbook Reform, the nationalist organization that has pushed to have references to the country's wartime atrocities eliminated from junior high school textbooks.

Mr. Nishio is blunt about how Japan should deal with its neighbors, saying nothing has changed since 1885, when one of modern Japan's most influential intellectuals, Yukichi Fukuzawa, said Japan should emulate the advanced nations of the West and leave Asia by dissociating itself from its backward neighbors, especially China and Korea.

"I wonder why they haven't grown up at all," Mr. Nishio said. "They don't change. I wonder why China and Korea haven't learned anything."