Bush: Beijing ride better than Crawford
By Qin Jize (China Daily)
Updated: 2005-11-21 05:47
No matter where he goes, or how far, US President George W. Bush's passion for cycling always travels with him and so does his fancy mountain bike.
Taking a break from talks with Chinese leaders, the US president pedalled up and down along a steep dirt path yesterday afternoon at Laoshan Olympic Mountain Bike Course in Beijing's western suburbs.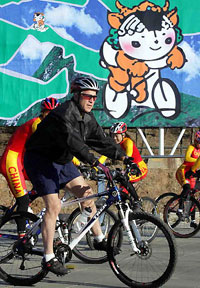 US President George W. Bush rides his mountain bike at the Laoshan Olympic Mountain Bike Course in Beijing Sunday on November 20, 2005. [newsphoto]
Trading in his shirt and tie for a black windbreaker and a pair of purple shorts, Bush, 59, looked fresh and energetic as he took advantage of the sunny weather to enjoy one of his favourite pastimes.
Joining him were six young Chinese cyclists who are preparing for the Olympics, three men and three women.
They presented the president with a beige sweater their training uniform.
"How do you say, 'take it easy on the old man'?" Bush joked when the group posed for the pictures. He then quickly got on his bike and was ready to start the journey.
The shiny blue-and-white mountain bike carried aboard Air Force One "is worth a lot of money," a Chinese security official told reporters.
Bush's bike is one of the best and worth more than US$3,000, according to reports.
It is reported that when the nine-people group, including two of Bush's secret service agents, set out, a US journalist asked Bush if it reminded him of his rides at his Crawford, Texas ranch.
Better than Crawford, was Bush's reply.
Chinese Foreign Ministry spokesman Kong Quan said later yesterday that Bush did not accept the arranged routes and chose a more zigzag biking path.
"His shadowy silhouette disappeared in the shrubbery and we couldn't see him often at the foot of the hill," Kong said.
High spirits
Bush appeared to be in high spirits after a 45-minute ride and gave each of the accompanying riders a pair of socks as souvenirs, according to Kong.
There were no reports of injuries this time. In July, it was reported that Bush crashed into a Scottish policeman while racing through the Gleneagles golf resort during a summit.
And last year, he suffered minor abrasions after falling off a mountain bike near Crawford.
This is not the president's first bike ride during his current four-Asian-nation tour.
He is reported to have left his hotel in Busan, the Republic of Korea, at 6:55 am for a spin through a military installation on November 17.
Reminiscing nostalgically on a recent TV interview about riding his bike through Beijing's alleys 30 years ago, Bush described his experience as "fantastic."
Bush, then 29, visited the Chinese capital in 1975 for the first time, when his father headed the US liaison office.
However, Bush's "fantastic experience" is hard to repeat due to the traffic conditions in Beijing, Premier Wen Jiabao told the US guest at a luncheon.
Observers said that Bush's ride yesterday expresses friendliness with the people in China, where the bicycle is an important part of life and culture.
Also, Kong Quan said it showed the president's support for a successful Beijing Olympic Games in 2008.
(China Daily 11/21/2005 page2)