China tightens rules on animal epidemics
(AFP/China Daily)
Updated: 2005-11-21 06:30
China issued strict new rules on reporting animal epidemics as it said deadly bird flu had been detected in two new locations, bringing the total number of confirmed outbreaks in the country over the past month to 17.
Under the new rules, provincial governments should report major animal epidemics to the State Council, China's cabinet, within four hours of discovering them, Xinhua news agency said, quoting a new State Council regulation.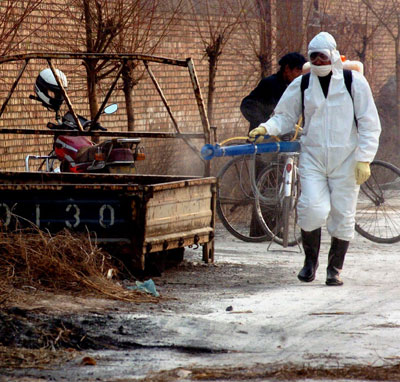 A health worker sprays disinfectant at a village in Xiaoyi, North China's Shanxi Province November 20, 2005. The region reported a bird flu outbreak last week. [Xinhua]
County and city governments are also required to report cases to provincial authorities within two hours. Officials who neglected their duty would be removed and could be prosecuted, it said.
The regulation is aimed at "controlling and stamping out major animal epidemic cases as soon as possible, ensuring the safety of breeding industry, protecting people's health and lives and safeguarding the normal social order," the regulation said.
One of the new outbreaks struck a poultry farm in north China's Inner Mongolia region and another hit a geese farm in central China's Hubei province, the Ministry of Agriculture said in a statement on its website.
In the Inner Mongolia outbreak, 176 poultry were discovered dead on a farm in Hanguerhe town, in the Molidawada minority area, on November 15, with the disease confirmed by a national laboratory Sunday, the ministry said.
On November 16, 3,500 geese died at a farm in the Tianezhou economic development district in Hubei's Shishou city, according to the ministry. The outbreak was also confirmed as bird flu Sunday.
Local authorities are culling all poultry within a radius of three kilometers (1.9 miles) of each outbreak, with 3,202 birds destroyed in Inner Mongolia and 3,800 in Hubei so far.
The news came four days after China announced its first confirmed human fatality from avian influenza, a 24-year-old peasant woman from central Anhui province.
A 12-year-old girl from Hunan province in the center of the country was also considered a possible bird flu fatality, according to local health authorities, but unreliable sample testing made confirmation impossible.
China had previously reported over the past month 15 other outbreaks across a wide swathe of the country.