WHO's "war room" prepares for bird flu pandemic
(Reuters)
Updated: 2005-11-18 10:07
Known as the "war room" or the "bunker", it is the world's nerve-centre for tracking deadly diseases from Ebola haemorrhagic fever to bird flu.
Each day, officials at the World Health Organisation (WHO) use its sophisticated communications systems to monitor suspected disease outbreaks and contact experts in the field.
The screen-filled room will become a global command centre if the H5N1 bird flu virus, which has killed more than 60 people in Asia since 2003, mutates into a form which spreads easily among humans, sparking an influenza pandemic which could kill millions in months.
"This room is the eyes and ears of the global epidemic response. The technology in the room takes us to another level," said Dr. Mike Ryan, WHO's director of epidemic and pandemic alert and response.
The Strategic Health Operations Centre (SHOC) is a $5 million state-of-the-art facility in a former cinema at the WHO's Geneva headquarters. Shortly after opening a year ago, it was used to help coordinate medical teams during Asia's tsunami.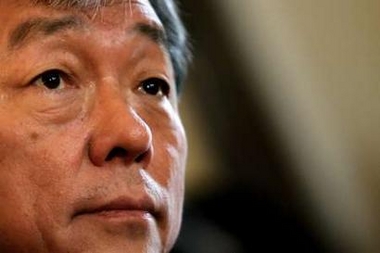 Lee Jong-Wook, the director-general of the World Health Organisation (WHO), attends a news conference on bird flu with Italian Health Minister Francesco Storace in Rome November 17, 2005. [Reuters]

Funded by donors led by the United States, it has screens for video-conferencing and displaying Web sites and satellite feeds. Round-the-clock, computers transmit audio, video and data from some 66 offices connected to the hub so far.

"Pandemic flu will run us ragged here," Ryan said.

"The world will look to the WHO for immediate information, for risk assessment, for the world's weather system when it comes to where the flu is and where it is going," he said.

HIGHER PROFILE

Ryan said the war room gave the WHO a single point of coordination to try to contain outbreaks of diseases like cholera, dengue fever, Ebola, SARS, malaria and bird flu.

The United Nations agency's public profile has risen since bird flu and SARS, or Severe Acute Respiratory Syndrome, emerged in Asia in the past few years and then jumped continents.

The SARS crisis, which began in 2002, prompted calls for the WHO to play a more active role after China was criticised for being slow to alert others to an outbreak which spread across 30 countries, infecting nearly 8,500 people and killing around 800.

Ryan said the WHO's 192 member states now recognised that openness was the best way to deal with outbreaks.

"It has been a progression, but the paradigm has shifted."

When Lee Jong-Wook took over as WHO director-general in July 2003, he ordered the agency's small existing operations centre revamped so that it could tackle public health emergencies.

"We lacked an operational focus for this kind of rapid response activity, both in terms of information management and field deployment," said Ryan, an Irish doctor and public health expert who joined the WHO in 1996.

"It does have a war room, or bunker feeling ... There is no natural light. Sometimes you are here at 3 a.m. and you don't know whether it is night or day -- we become a little mad," he said with a grin as he showed reporters around the bunker.