WHO: China measures 'almost textbook'
(AFP/China Daily)
Updated: 2005-11-18 07:12
China reported two new bird flu outbreaks Thursday as WHO's China head Henk Bekedam praised the Chinese government's containment measures as "almost textbook".
The Ministry of Agriculture reported on Thursday two new outbreaks of bird flu, one in Xinjiang in the far northwest and the other in the central province of Hubei.
The deadly H5N1 strain of the virus is believed to have killed 662 birds in poultry farms at Xiaonan District, Xiaogan City of Hubei Province on November 5, and 32 chickens in Hotan of the Xinjiang Uygur Autonomous Region on November 10, the Ministry of Agriculture said in a statement Thursday night.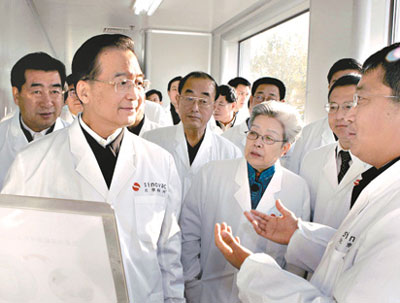 Premier Wen Jiabao and other State leaders yesterday visit the company that produced a vaccine for human infections of bird flu. "We conquered the SARS epidemic in 2003. We will surely conquer bird flu, too," said Wen. [Xinhua]
In the Xinjiang case the region's third outbreak following two in two other counties reported on Tuesday quarantine workers detected sick chickens at a local market and traced the source, only to find dozens of poultry had already been infected, according to the ministry.
Both Xinjiang and Hubei have started work on contingency measures, including culling 86,215 and 2,722 birds, respectively, in regions within a 3-kilometre radius of the outbreak sites.
The latest reports bring to 13 the number of outbreaks, across six provinces and regions, confirmed in China over the past month.
The fresh outbreaks followed confirmation on Wednesday night of the nation's first known human cases of bird flu.
The Health Ministry said the virus had killed one woman, likely claimed the life of another girl and infected one boy who has since recovered.
The ministry said a 24-year-old female poultry worker from the eastern province of Anhui, Zhou Maoya, died of bird flu on November 10 after falling ill on November 1.
A 12-year-old girl, He Yin, from an infected area in neighbouring Hunan province who died on October 17 was also "suspected" to have been a victim of H5N1, the ministry said.
The ministry said that, according to World Health Organisation (WHO) guidelines, He's case could not be definitively confirmed as bird flu because reliable laboratory samples were not available.