Hu: China will contribute to global peace
(AP)
Updated: 2005-11-18 06:28
Chinese President Hu Jintao took center stage at a Pacific Rim forum Thursday, offering assurances there is nothing to fear from his fast-developing country and emphasizing that China has great potential to contribute to world peace.
"Facts have proved that China's development will not stand in the way of anyone, nor will it pose any threat to anyone," Hu said in a speech to a gathering of chief executives. "Instead, it will only do good to peace, stability and prosperity in the world."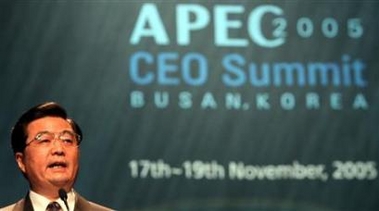 China's President Hu Jintao delivers a speech during the Asia-Pacific Economic Cooperation (APEC) CEO summit in Pusan, South Korea November 17, 2005. [Reuters]

Hu came to Busan for the annual summit of the Asia-Pacific Economic Cooperation forum, where he, President Bush and 19 other leaders plan to address threats like terrorism, stalled global trade talks and the potential for a flu pandemic that experts say could kill millions of people.

The focus of APEC's weeklong meetings shifted to the business summit, an annual event on the sidelines of the leaders' gathering, as government delegates took a break from official meetings a day after trade and foreign ministers signed off on a statement to be handed to leaders.

Hu said China has emerged a major engine of world growth, touting the strides it has made in recent years. He read off a slew of statistics, such as his country's 9.4 percent economic growth last year and the doubling of its foreign trade from just three years ago.

Along with China's astonishing economic growth ¡ª averaging about 9 percent over the past decade ¡ª have come concerns that major increases in military spending mean the world's most populous country may be seeking a role as the strongest power in the Asia-Pacific region.