Artificial insemination: 25 giant pandas born
(Xinhua)
Updated: 2005-11-17 14:51
CHENGDU -- Artificial insemination gave birth to 25 baby pandas this year, of which 21 have survived, a record number since China first took the challenge in the 1960s.

"It's undoubtedly a boon to the critically-endangered species," said Zhang Zhihe, director of the Chengdu-based Giant Panda Breeding Technology Committee.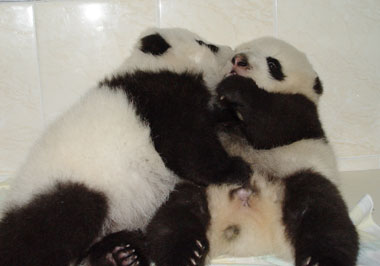 Three-month-old twin pandas play at the Wolong Giant Panda Breeding and Research Center in southwest China's Sichuan Province November 5, 2005. [newsphoto]

Zoologists artificially impregnated 38 giant pandas nationwide in spring and 25 baby pandas were born in the fall, Zhang said Thursday.

He said 16 of the surviving baby pandas were born at the Wolong Giant Panda Breeding and Research Center in the southwestern Sichuan Province, including two sets of twins.

"Despite the early deaths of four baby pandas, year 2005 has witnessed the largest number of surviving newborn pandas in China's history of artificial fertilization on the rare species," he said. "We owe this achievement to Chinese scientists. They have acquired mature technologies and valuable experience after years of hard work."

Last year, China's 30 artificially-fertilized giant pandas produced 12 offspring but only nine survived.

China began to try artificial fertilization technologies on giant pandas in the 1960s but back then, very few successful cases were reported each year.

Major breakthroughs have been reported after the 1990s. Artificial fertilization gave birth to nine baby pandas in 2000, 12 in 2001, 10 in 2002 and 15 in 2003.

The Wolong center inaugurated in 1983 has welcomed 90 baby pandas born through artificial insemination, 77 of whom have survived. The center has reported 100 percent newborn survival rate for five years in a row.

Giant pandas show little instinctive behavior in captivity, especially sexual desire, essential for natural mating and conception.

Forestry authority statistics show fewer than 10 percent of male giant pandas mate naturally and fewer than 30 percent of females conceive naturally.

Female pandas normally enter estrus at age four or five and have only one chance for pregnancy a year. After 160 days of pregnancy, they deliver only one or two cubs.

Zhang and his team have worked hard in recent years to tackle the endangered animals' breeding problems and have resorted to artificial insemination, frozen semen and even showing the pandas videos on natural mating in the wild to arouse their sexual instincts.

"Female pandas are extremely picky about their Mr. Right," said Zhang. "So we raise panda cubs in pairs hoping puppy love will create soul mate couples."

On the other hand, zoologists have also been helping clumsy mother pandas with artificial feeding to reduce mortality rate among newborn pandas, he said.

Pandas are among the world's most endangered wild animals and are found only in China. A forestry report released in 2004 says there are 1,590 giant pandas living in the wild and another 161 kept in captivity at worldwide zoos.

Wild pandas mainly live in mountainous areas in Sichuan, Shaanxi and Gansu provinces.