Bush, South Korea's Roh united on nukes
(AP)
Updated: 2005-11-17 14:25
In a show of unity, US President Bush and South Korean President Roh Moo-hyun declared Thursday that a nuclear-armed North Korea "will not be tolerated" and agreed the problem should be resolved through peaceful diplomacy.
The two leaders spoke at a news conference in Gyeongju, the ancient capital of Korea. About 250 demonstrators, carrying signs that said "Stop Bush," gathered at the train station in the city to protest the president's visit.
Bush expressed solidarity with Vice President Dick Cheney, who issued a blistering attack in Washington against Democratic critics who claim the White House manipulated intelligence on Iraq before the war. Cheney said the critics were spreading "one of the most dishonest and reprehensible charges ever aired in this city."
"Ours is a country where people ought to disagree and I expect there to be criticism," Bush said, who appeared visibly irritated. "But when Democrats say I deliberately misled the Congress and the people, that's irresponsible."
Bush and Roh met ahead of a 21-nation trade and economic summit whose members include the leaders of the five countries ¡ª the United States, China, South Korea, Russia and Japan ¡ª negotiating with North Korea for its nuclear disarmament.
Roh said the the next round of six-party talks on North Korea's nuclear program should be held as soon as possible to find a breakthrough. The negotiations adjourned last Friday with delegates reporting little progress. "We have no disagreements at all that this issue must be resolved," Roh said.
"We reiterated that a nuclear-armed North Korea will not be tolerated and reaffirmed that the issue should be resolved through peaceful and diplomatic means," Roh said through a translator.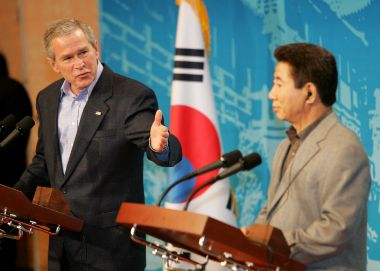 U.S. President George W. Bush (L) and his South Korean counterpart Roh Moo-hyun attend a news conference in Kyongju, southeast of Seoul November 17, 2005. [Reuters]

Bush agreed. "It's in the world's interest that this happen," Bush said. "It's also in our interest that we continue to work together to solve the problem. I see a peninsula one day that is united and at peace."

Roh said the two leaders talked at length about the North Korean nuclear issue and exchanged views about North Korea's attitude and tactics.

"We are basically looking to resolve this North Korean nuclear issue, and we are exploring more ways that we can resolve this issue," Roh said. The two leaders endorsed a joint declaration expressing satisfaction with "the steady development" of the U.S.-South Korean alliance.

Bush said the United States would not comply with North Korea's demand that it be provided with a light-water nuclear reactor before it disarms, a stumbling block in the talks.

"We'll consider the light-water reactor at the appropriate time," Bush said. "The appropriate time is after they have verifiably given up their nuclear weapons and/or programs."

Roh played down disputes with the United States and said the current state of relations with the North represented "perhaps the most stable situation between the two Koreas that you have ever seen. And the Korea-U.S. dialogue is going on very smoothly."

South Korea has resisted the tough approach advocated by the Bush administration for ending the impasse with North Korea, opposing the idea of military action if diplomacy fails. South Korea also is cool to the idea of taking the standoff to the U.N. Security Council for possible sanctions.

Bush's eight-day journey to Asia offers him a reprieve from troubles at home, where his approval rating has fallen to the lowest point of his presidency. Unhappiness over the war in Iraq has hurt Bush's popularity and credibility, and Republicans are nervous about how the war and the president's other woes will affect next year's midterm elections.

Roh has been a major supporter of Bush's Iraq policy. South Korea is the third-largest contributor of troops behind the United States and Britain, deploying more than 3,000 soldiers. Like Bush, Roh's domestic approval ratings are down, and his foes call him a lame duck.

Bush flew here for the annual summit of the Asia-Pacific Economic Cooperation forum, representing 21 countries that account for about half the world's trade. APEC is expected to call for progress at the next round of World Trade Organization talks in Hong Kong next month toward a global trade agreement.

APEC represents "a significant bloc in the WTO membership," said Faryar Shirzad, deputy national security adviser for international economic affairs. "And so when they speak and lay out an agenda of ambition, it's an agenda that the membership at the WTO takes note of and helps drive the negotiating dynamics in a constructive way."

In addition to the APEC meetings, Bush will hold separate talks with the leaders of Malaysia, Russia and Indonesia before traveling to China on Saturday.

Looking ahead to talks about North Korea, Bush said his objective was to remind his partners that they need to stick together and send a consistent message.

The most recent round of negotiations adjourned Friday with no sign of progress, but it's likely they will resume in Beijing next month or in January. In September, North Korea promised to end its nuclear program in exchange for aid, diplomatic recognition and security guarantees.