White-collar workers interested in 'flash marriage'
(Shanghai Daily)
Updated: 2005-11-16 08:43
More than 100 white-collar employees signed-up for next month's 'flash-marriage' event yesterday, the opening day for applications, today's Youth Post reported.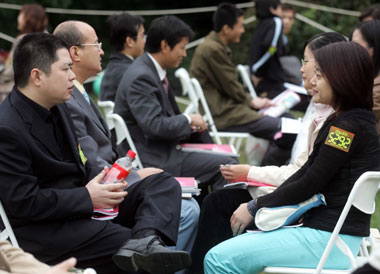 Pairs of single men and women hold a
8-minute-talk face to face in Shanghai's
Zhongshan Park on October 22, 2005. Nearly 5,000 local young professionals, all in a love hunt, convene for a mass match-making activity held in the park. [newsphoto]


The event, due to start on December 3 and covering various activities including 'making friends', 'speed-dating', 'together with parents' and 'free activities', is expected to attract 500 hopefuls.

Most applicants, aged around 30, have at least a university associate degree and monthly incomes of around 5,000 yuan (US$616), with some even being general managers of companies. More than 85 percent say they have been in love more than once.

I don't want to make friends in an aimless way, and to find someone for marriage is my biggest dream now," said Yuan, an applicant for the event.

Yuan was not alone. Dozens of applicants said that with marriage as the logical outcome of the event, participants would not feel embarrassed when talking about marriage.

"I feel guilty for my parents who urge me to get married as soon as possible almost every day. I have attended several blind dates and have given up on them, so I think such an event is a good chance for me," said a general manager in the gardening industry who is in his forties.

"My previous loves have not been long-lasting, and I am tired of my currently unstable life. So I hope I can find my Mr. Right at the event and settle down as soon as possible," said a 33-year-old female general manager.

Parents are also supportive of the event. "Society is too complicated, and it is good for my children to be able to seek the right partner at the event," said one.

Most applicants have rich life experiences and like to pursue perfection, said Bai Naimu, a spokesman for the event, adding that participants can even talk about whether to have children or not in the future.