China to vaccinate all 14bn poultry against bird flu
(AP)
Updated: 2005-11-16 01:18
China's top veterinary official said Tuesday that the government plans to vaccinate all of the country's 14 billion poultry against bird flu as two new outbreaks of the disease in the far west were announced.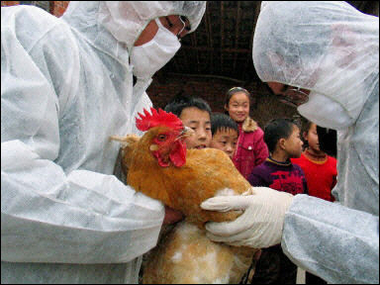 Chinese health officials take a blood sample from a chicken in Anhui province. China reported its 10th and 11th bird flu outbreaks in a month, this time in a remote desert region, and announced plans to vaccinate all its billions of poultry to combat the virus. [AFP]
"China is in the process of vaccinating all the poultry in the country," said Jia Youling, the Agriculture Ministry's chief veterinary officer.
All fees will be covered by the government, said Jia, who was answering questions about bird flu on the Internet.
He did not give any more details on the vaccinations.
China has more than 14 billion farm poultry, accounting for almost 21 percent of the world's total.
Also Tuesday, the government confirmed the 10th and 11th outbreaks in the past month.
Some 6,547 chickens were infected in Urumqi and Zepu counties in the Xinjiang region on Nov. 9 and 2,747 of them died, said Roy Wadia, a WHO spokesman in Beijing. He said the agency received the information from the Agriculture Ministry.
A total of 320,000 poultry have been slaughtered, he said.