Anhui Province reports new outbreak of bird flu
(AP)
Updated: 2005-11-14 21:59
China on Monday reported a new case of bird flu in poultry in the country's east — its ninth outbreak since Oct. 19.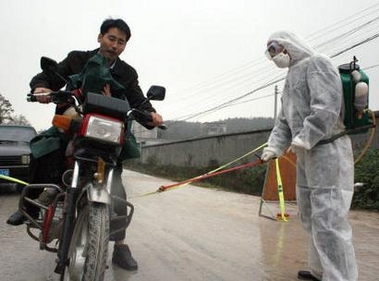 Chinese health worker disinfects a motorcycle at the entrance to a bird flu-hit village in Jingshan County, central China's Hubei province November 13, 2005. [Reuters]
The news, announced on government television, came as experts from the World Health Organization were in central China to help determine whether bird flu killed a 12-year-old girl and sickened two other people in a village that suffered an outbreak in poultry last month.
China has not confirmed any human cases of bird flu, but authorities have warned that it is inevitable if they cannot control outbreaks among the country's vast poultry flocks.
The newest outbreak in poultry was in Huainan, a city in Anhui province, China Central Television said. The case was first reported on Nov. 6, when 800 domestic poultry died, it said.
It was confirmed Monday to be the virulent H5N1 strain of bird flu, CCTV said.
Some 126,000 poultry within three kilometers (two miles) of the affected area were slaughtered as a precaution, it said.
It was the second time in a month that Anhui has reported an epidemic in its poultry. The last one was confirmed Oct. 24 in the city of Tianchang, where 2,100 geese and chickens were found dead of the virus.
The six-member WHO team headed to Hunan on Monday and will stay there for about a week helping Chinese investigators, said Roy Wadia, a WHO spokesman in Beijing. They will be led by an epidemiologist from the WHO office in the Chinese capital.