Death toll rises to 5 in chemical plant blasts
(Xinhua)
Updated: 2005-11-14 21:55
The death toll from the chemical plant explosion in northeastern Jilin Province rose to five as rescuers found the remains of four more workers, the local government confirmed Monday.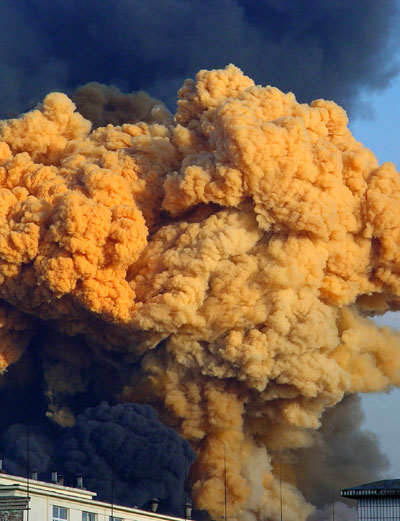 Smoke billows out after a series of blasts hit a chemical factory in Jilin City, Northeast China's Jilin Province Sunday November 13, 2005. One worker was killed and five others were missing, with 70 others wounded. [Xinhua]
Another worker is still missing, but the chance for him to survive is very slim, said an official with the provincial government at the site Monday evening.
The two workers who got seriously injured in Sunday's explosion have been out of danger, according to doctors from the hospital of the China National Petroleum Corporation (CNPC) Jilin Petrochemical Company, owner of the plant.
As the fire was brought under control, local residents and students of two colleges near the chemical plant have returned from an emergency evacuation conducted shortly after the explosions.
The blasts took place at about 1:45 p.m. Sunday in a workshop of the No. 101 Chemical Plant under the CNPC Jilin Petrochemical Company based in Jilin City, some 100 km east to Changchun, the provincial capital. Some 70 people were injured and six people were reported missing.
The fire caused by improper handling of a problem in a tower that processed benzene, a highly flammable liquid, was extinguished at around 4 a.m. Monday. No toxic gas was detected inthe air of the affected district, according to corporate sources.
The local government has kept monitoring the air and water quality in the area, and further investigation into the blast is being made.
The work on compensation for the explosion victims also began on Monday, according to the Jilin Petrochemical Company.
"We will take lessons from this accident to improve safety facilities in production," said Yu Li, general manager of the CNPC Jilin branch.