Saddam's lawyers face obstacles to demands
(AP)
Updated: 2005-11-14 21:05
Saddam Hussein's lawyers face major challenges from the United States and Iraq to their demand to move his trial to another country after two of their colleagues were killed.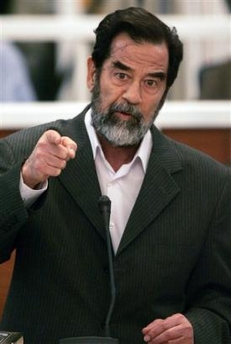 Saddam Hussein speaks to the Presiding Judge Rizgar Mohammed Amin, unseen, as his trial begins in a heavily fortified courthouse in Baghdad's Green Zone, Wednesday, Oct. 19, 2005. The trial took place in the five-story marble building that once served as the National Command Headquarters of Saddam's feared Baath Party. Hussein's trial will resume on schedule in November 2005 despite the slaying of two defense attorneys and the threat by others to boycott the session, a senior official says. The court says it is ready to appoint a defense team to replace 1,100 lawyers on Saddam's defense team who say they are withdrawing because of insufficient protection. [AP]
Saddam's attorneys have argued all along that the only fair trial would be one held in a special international court outside Iraq. Now about 1,100 lawyers have withdrawn from his defense team, citing inadequate protection for themselves and their families.
The boycott threatens to paralyze the trial and undermine its legitimacy, dealing a blow to the Bush administration and the government in Baghdad, which have insisted Saddam face justice in his homeland before his own people.
"There is no way you can have a trial in a country where there is absolutely no authority. That is the situation in Baghdad today," Abdel-Haq Alani, a London-based lawyer who is a leading member of the defense team, told The Associated Press by phone.