Jordan applauds capture of would-be bomber
(AP)
Updated: 2005-11-14 20:52
The televised confession of an Iraqi woman — accused of being the fourth would-be suicide attacker — set Jordanians buzzing Monday, with some expressing joy over her capture and others venting anger over her deadly plans.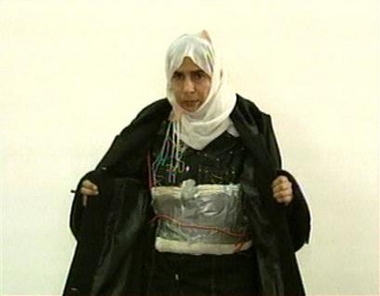 This image made from television shows Iraqi Sajida Mubarek Atrous al-Rishawi opening her jacket and showing an explosive belt as she confesses on Jordanian state-run television Sunday Nov. 13, 2005 to her failed bid to set off an explosives belt inside one of the three Amman hotels targeted by al-Qaida. Fifty-seven people were killed on Wednesday's attack on three Amman hotels. It can not be confirmed that this is the actual belt used in the failed attempt on Wednesday . [AP]
Still others questioned if she was really involved in the bomb plot that killed 57 people in Wednesday's attacks on the Radisson SAS, Grand Hyatt and Days Inn hotels.
Sajida Mubarak Atrous al-Rishawi went from rural Iraqi obscurity to global notoriety overnight after her confession was aired Sunday in a broadcast beamed not just across Jordan, but throughout the Middle East and beyond.
"I sat there watching and couldn't understand how she could be speaking so coldly," said Adel Fathi, 29. Three of his relatives were killed in the Radisson wedding party reception that was bombed by al-Rishawi's husband.
"What are these people made of?" asked Fathi, who closed his women's accessories shop early and joined millions of others who watched the confession.
Al-Rishawi, from the militant hotbed of Ramadi and the sister of a slain lieutenant of Jordanian-born militant Abu Musab al-Zarqawi, was arrested Sunday. Police swooped on an Amman safe house after they were tipped by al-Qaida in Iraq's Internet claim that she had died in the attacks.
"My husband detonated (his bomb) and I tried to explode (mine) but it wouldn't," al-Rishawi said during the three-minute televised segment. She appeared anxious and wore a white headscarf. "People fled running and I left running with them."
Al-Rishawi was made to display the clothing she wore into the party in which at least 25 people were killed by her husband, Ali Hussein Ali al-Shamari, also 35.