Signs of the times are not quite right
By Wang Zhuoqiong (China Daily)
Updated: 2005-11-14 05:10
Feel squeamish about entering "Racist Park"?
Or expect a waterfall when you see a sign warning "Mind falling water"?
Or look around for shady customers when you see "The slippery are very crafty"?
The answers to the above, in the same order, are:
There's nothing racist about the park, it's actually the Park of Chinese Ethnic Minorities along the Fourth Ring Road in Beijing.
The water warning is to remind visitors not to take a dip in a city lake.
"Slippery" refers to the road and not any dodgy characters.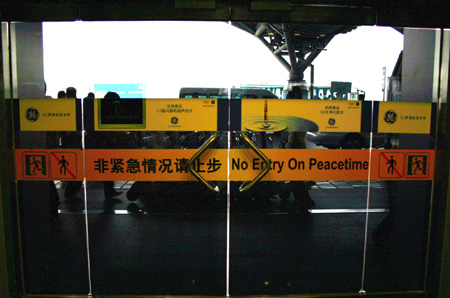 A bilingual sign at Beijing Capital International Airport which reads "No entry on Peacetime," should actually be "Exit only in Emergency." [China Daily]
The signs are among the hundreds of confusing, sometimes nonsensical, signs that litter many places like the airport, hospitals, railway stations and tourist spots in Beijing.
Since May, residents and visitors, including many foreigners, have sent in such examples to a programme "Use Accurate English to Welcome the Olympics Public Bilingual Sign Standardization Drive."
The organizer of the programme, Beijing Speaks Foreign Languages Programme Office of the Beijing Municipal Government, said it hopes to raise public awareness of such sloppy work mainly grammatical mistakes, spelling errors and inappropriate expressions and correct them in collaboration with other government bodies.
The English signs in Beijing are embarrassing, said Chen Lin, professor at Beijing Foreign Studies University, who is chairman of the programme's advisory committee.
The office set up a section on a website for people to post their observations online and the response was overwhelming more than 300 in three months.
"Residents sent in a wide range of complaints," said Zhou Chen, an official at the programme's office.
For example, the "Racist Park" sign was spotted and posted online by a Canadian student named Eric.
"It suggests China hates other nationalities; and foreigners coming to China would feel uncomfortable," he said, adding: "I love China, please change it."
Jay Shen, from the United States, pointed out that the introduction to the Summer Palace says "three quarters are under water" instead of "three-quarters of the park is a water surface."
To improve the city's image as an international metropolis, the Beijing municipal government has vowed to have all signs in correct English by the end of 2007, according to Chen.
And it will not just be English that will be the focus of attention. Tourism information in other languages will also be on the agenda.
The top eight tourism spots in Beijing will have brochures and audio commentary in seven languages by 2007, said Chen.
That would be as solicitous to non-English-speaking visitors as a winter sign at the Palace Museum which says: "Don't fall down."
(China Daily 11/14/2005 page1)