Iraq leader: UK troops could leave by '06
(AP)
Updated: 2005-11-14 10:29
Iraqi President Jalal Talabani said Sunday that British troops could leave Iraq by the end of 2006, an estimate that Britain's top soldier said was realistic but did not amount to a timetable for withdrawal.
Talabani said Iraqi troops should be ready to take over from British forces in the southern provinces around Basra by the end of next year, adding that no Iraqis wanted foreign troops to remain indefinitely in their country.
But he warned that an immediate withdrawal of U.S.-led forces would be catastrophic for Iraq and lead to civil war, with consequences for the entire Middle East.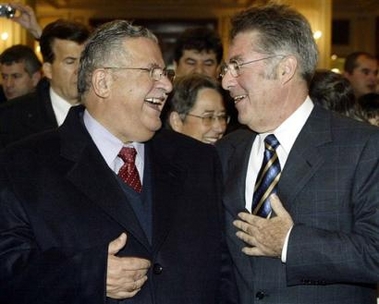 Austrian President Heinz Fischer, right, and his counterpart from Iraq Jalal Talabani share a laugh, on Sunday, Nov. 13, 2005, at a hotel in Vienna.[AP]

"We don't want British forces forever in Iraq. Within one year — I think at the end of 2006 — Iraqi troops will be ready to replace British forces in the south," Talabani said in the interview with Jonathan Dimbleby for Independent Television.

Prime Minister Tony Blair's administration repeatedly has refused to give a timetable for withdrawing British troops from Iraq, although a government memorandum leaked in July said Britain was considering cutting its force from the current 8,500 to 3,000 by mid-June. Blair and other ministers have stressed that British troops will stay as long as they are requested by the Iraqi government.

US President Bush also has refused to set a timetable for withdrawing 150,000 American troops from the country, saying it would play into the hands of insurgents. However, Iraqi Deputy Prime Minister Ahmad Chalabi said Friday that U.S. troops could begin leaving in significant numbers sometime next year.

The British army's chief of staff, Gen. Sir Mike Jackson, said Sunday that the assessment offered by Talabani for British withdrawal was "well within the range of what is realistically possible."

"The president has said that we could leave within a year or so. I would agree — we most certainly could. But it's a question of achieving the right conditions," Jackson told the British Broadcasting Corp.'s Sunday A.M. program.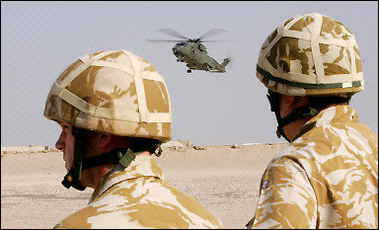 British soldiers watch as a helicopter lands just outside Basra in October 2005.[AFP/file]

Jackson insisted, however, that such comments did not amount to a timetable for withdrawal.

"We need to be careful about timetables and end-dates. It is much talked-about, but it is not the best way of looking at this," he said.

"What we are trying to achieve are a set of conditions at which point we have the confidence — and more importantly the Iraqi government and Iraqi people have the confidence — that they can fully stand on their own feet and there is no requirement to be supported by the coalition.

"When these conditions come together, then the time will be right."

British Defense Secretary John Reid said Talabani's comments were "completely consistent with what I've said, which is that we will stay in Iraq until the job is done."

"That job will be done when the Iraqis themselves are capable of taking their own security into their own hands, and that handover is something that could begin in parts of Iraq in the course of the next year," Reid told Sky News television.

Talabani cautioned against an immediate troop withdrawal, saying it "would lead to a kind of civil war and ... we will lose what we have done for liberating Iraq from worst kind of dictatorship."

"Instead of having a democratic, stable Iraq, we will have a civil war in Iraq, we will have troubles in Iraq, (and they) will affect all the Middle East," he added.

Talabani called for a gradual pullout, with close coordination between coalition nations and Iraqi authorities.

He acknowledged that an upsurge of violence could be expected in the run-up to National Assembly elections, scheduled for Dec. 15, but denied that insurgents could influence the results.

"I think they will fail, because the Iraqi people are now determined to participate in election," Talabani said. "Even our Sunni Arab brothers are participating actively — they have many lists for election, and they want to be represented in the next parliament."

Talabani denied there was any link between Britain's involvement in the war in Iraq and the July 7 terror attacks in London that killed 56 people, including the four suicide bombers.

"I cannot accept this," he said.