Schwarzenegger seeks to boost China trade
(AP)
Updated: 2005-11-14 08:46
California Governor Arnold Schwarzenegger left for China on Sunday for a six-day mission to encourage Chinese officials to crack down on the piracy of copyrighted music, movies and software and to promote California products.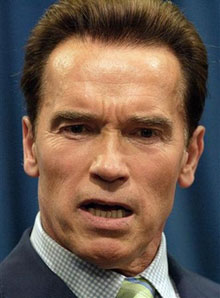 California Governor Arnold Schwarzenegger speaks at a press conference in Sacramento, California, November 10, 2005. [Reuters]

The trip also gives him a chance to revive his political image after the bruising defeat of his "year of reform" package in a special election last week.

In China, his celebrity overshadows his recent political woes.

"Folks coming along recognize they want the exposure a celebrity like the governor can bring," said Jeff Williamson, director of the state's Center for International Trade Development.

Schwarzenegger's first-day schedule includes a Special Olympics tribute and a reception with the 80 business leaders accompanying him. Traveling with him are his wife, several cabinet secretaries and a delegation of executives eager to promote companies that include Pfizer Inc., Universal Studios and Qualcomm Inc.

Since becoming governor in 2003, Schwarzenegger has made official visits to Israel, Japan, Germany and Mexico. But China's size — 1.3 billion people and growing — and rapidly emerging economic clout offer a particularly vexing challenge in the global marketplace. Just last year, China sold $162 billion more goods to the United States than the United States sold to China, and the gap is widening.

California is the major gateway for U.S. trade to China, with cotton and computer-related products leading the way. The state exported $6.8 billion in goods to China in 2004, double what it exported in 2000, according to the California Chamber of Commerce.

"We're at a tipping point with China, and we have a lot to learn about what the Chinese are doing," said Chris Nance, a spokesman for state Business, Transportation and Housing Secretary Sunne McPeak.

Topping the governor's agenda will be trying to persuade the government to go after copyright piracy.

China's black market has translated into millions of dollars lost from the California economy.

In Hong Kong, Schwarzenegger will kick off an anti-piracy public-service campaign starring himself and action star Jackie Chan.

The governor's packed schedule is also expected to take him to a trade promotion at the Great Hall of the People in Beijing, a tour of the Port of Shanghai and a celebration of "California Grown" food products at Victoria Park in Hong Kong.

Along the way, Schwarzenegger plans to hold business roundtables on issues ranging from energy and sustainable development to agriculture and ports.

Schwarzenegger will not be the only American politician in China this week. Minnesota Gov. Tim Pawlenty is also on a similar trip, and President Bush will visit China this week as part of a multination Asia trip. Schwarzenegger and Bush avoided each other on the president's two most recent trips to California. It's not known whether their paths will cross halfway around the world.