China mulls deregulating energy prices
By Fu Jing (China Daily)
Updated: 2005-11-14 05:10
Household utilities bills go up.
Windfall-profit taxes levied on coal and oil companies.
And exporters who make products that guzzle energy in the manufacturing process are discouraged.
All these scenarios will be played out in the coming years as the nation's top policy-making body deregulates prices of resources and makes energy consumption more productive.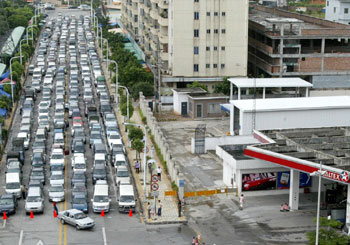 Cars line up to buy petrol at a petrol station in Dongguan, south China's Guangdong province, August 17, 2005. China's southern manufacturing heartland of Guangdong is plagued by closed service stations, fuel rationing and hours-long gas queues. [newsphoto]
Shortage of resources amid rapid industrialization is forcing the National Reform and Development Commission (NDRC) and the Ministry of Finance to consider letting the markets dictate rates for utilities and taxing inefficient use.
That was the message on the weekend from a group of high-ranking officials, which will be incorporated in the national development blueprint for the next 15 years.
Zhao Xiaoping, director of the NDRC's Pricing Department, said prices of products such as oil and coal would be liberalized soon by subjecting them to market forces.
Deregulation is slated for land use, water, coal, oil, electricity, gas and other resource-related products, said Zhao, which means bills for household utilities would go up.
"Our goal is to let prices reflect how scarce they are," said Zhao.
At a high-level forum on industry deregulation held earlier this month, Vice-Premier Zeng Peiyan is reported to have agreed on the reform strategy.
Zhao's department, which is charged with supervising the prices of goods and services that are of special importance to people's lives and national economic security, organized the forum.