Leaders expected to focus on economic ties
(China Daily)
Updated: 2005-11-14 05:10
MADRID: President Hu Jintao arrived here yesterday on a three-day visit expected to focus on economic and trade co-operation with Spain.
He is scheduled to hold meetings with King Juan Carlos I and Prime Minister Jose Luis Rodriguez Zapatero today while overseeing the signing of business agreements which cover telecommunications, tourism, aviation and power.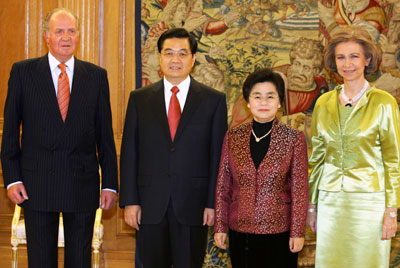 China's President Hu Jintao (2nd L) and his wife Liu Yongqing (2nd R) pose with Spain's King Juan Carlos (L) and Queen Sofia (R) before a private dinner at the Zarzuela Palace outside Madrid November 13, 2005. Hu arrived in Spain on Sunday for a two-day state visit. [Reuters]
Spanish Foreign Minister Miguel Angel Moratinos was quoted by Xinhua as saying earlier that Hu's visit would accelerate the progress of Sino-Spanish ties and intensify co-operation in various aspects.
Spain, the eighth-biggest economy in the world, is no less eager than fellow European Union members to step up economic ties with the world's fastest-growing major economy.
Sino-Spanish trade reached US$7.2 billion in 2004 and is set to breach the US$10-billion mark this year.
As the world's second-most popular tourist destination, Spain plans to receive 150,000 to 200,000 Chinese tourists in the next three to five years.
Spain is the third leg of Hu's four-nation trip which has taken him to Britain and Germany. He will travel to the Republic of Korea tomorrow for a state visit.
Before flying to the Spanish capital, Hu rounded off his trip to Germany by visiting the Ruhr Valley industrial heartland in the state of North Rhine-Westphalia on Saturday to see how former coal-mining regions have been transformed.
The president toured a commercial district run by the German corporation RAG and a distribution centre operated by the Swedish furniture giant IKEA in Dortmund.
Hu also visited the family of Guenter Twardy, a retired RAG worker who once worked in China, in the suburbs of Dortmund and was warmly welcomed by the Twardy family and their neighbours.
During his meeting with Juergen Ruettgers, premier of Nordrhein-Westfalen, Hu noted that the German state has rich experience in economic restructuring and transformation. Ruettgers said that his state will take Hu's visit as an opportunity to further strengthen co-operation with China.
On Friday afternoon, Hu attended the founding ceremony of the Sino-German Dialogue Forum with German President Horst Koehler in Berlin.
(China Daily 11/14/2005 page1)