At least 30 wounded in chemical plant blasts in Jilin
(Xinhua)
Updated: 2005-11-13 17:28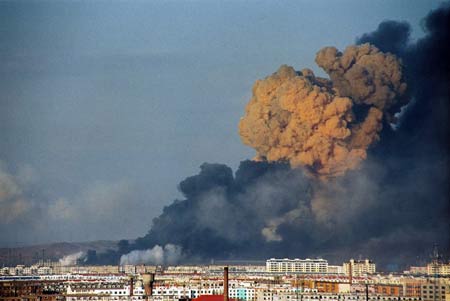 Thick smoke rolls up into the sky after explosions ripple through the Jilin Petroleum and Chemical Company from 2:00 p.m. to 3:00 p.m. Sunday, Northeast China's Jilin Province. There are so far no casualties reported while witness said dozens were hospitalized. [Xinhua]
At least 30 persons were wounded in a series of blasts that occurred Sunday afternoon in a chemical plant in northeast China's Jilin Province but there has been no report of deaths, local authorities said.
The blasts took place at a workshop in No. 101 Chemical Plant under the Jilin Petrochemical Company about 2:00 p.m. to 3:00 p.m. Sunday in Jilin City, some 100 km east of Changchun, capital of Jilin Province, according to rescuers. The wounded have been hospitalized.
The blasts shattered window glasses of buildings 100 to 200 meters away from the plant, witnesses said.
After the blasts, more than 10,000 residents have been evacuated for fear of further explosions and pollution by chemical matters from the plant, which produces benzene.
The site of the accident has been closed off and police are busy organizing the evacuation of more local residents. The cause of the blasts is still under investigation.