Web sites conflict on death of Saddam aide
(AP)
Updated: 2005-11-13 17:21
Conflicting claims emerged Saturday over the reported death of Saddam Hussein's chief lieutenant — believed by the United States to have played the key role in organizing the insurgency and the highest-ranking fugitive at large from the former regime.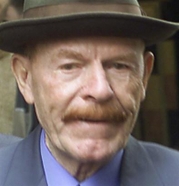 Izzat Ibrahim al-Douri, former Iraqi President Saddam Hussein's second-in-command, is shown in this March 6, 2003 photo. [AP]

A Baathist Web site reported his death on Saturday, but another Web site, also purporting to carry statements from the banned party, maintained Izzat Ibrahim al-Douri was still alive and apologized for the death report. A relative in Iraq said the family was unsure.

"In the pure land of Iraq, the soul of comrade Izzat Ibrahim returned to God on Friday at dawn," one statement said. It described al-Douri as the "field commander of the heroic resistance" and was signed by the Baath party's "political media and publishing office."

That statement appeared Saturday on a Web site believed run by Salah al-Mukhtar, who was Saddam's ambassador to India and head of the External Information Department.

The death announcement appeared to confirm an e-mail announcing the death of al-Douri that circulated a day earlier. He was believed to be at least 62.

But a later statement on a second Web site said "we apologize from our brothers and sisters for publishing a statement announcing the death of brother Izzat al-Douri, may God extend his life."

"We have learned a while ago from the dear brother Salah al-Mukhtar that the announcement of death was baseless and that warrior Izzat al-Douri is fine."

However, the Web site believed maintained by al-Mukhtar was still running the announcement that al-Douri had died. During the years Saddam was in power, Baathist statements avoided using terms like "brothers and sisters" in favor of "comrade."

Abdul-Rahman Mohammed Ibrahim, nephew and son-in-law of al-Douri, said he had no independent confirmation of the death, but some people close to Saddam outside the country were treating it as accurate.

Such confusion over al-Douri's possible death was reminiscent of the numerous, erroneous reports of his arrest since he disappeared after the collapse of the regime in April 2003. The extent of his role in the insurgency has also been in dispute.

U.S. officials believed al-Douri, one of Saddam's oldest and closest associates, played a key role in organizing resistance against the U.S.-led coalition and was instrumental in forging links between remnants of the ousted regime and Islamic extremists.

As the insurgency spread, the United States and its allies offered a $10 million reward for information leading to al-Douri's capture.

It was unclear whether al-Douri, who had been in poor health for years, still played a direct role in leading the insurgency. In June, the Iraqi government said he was losing influence among the pro-Saddam wing of the rebellion.

An e-mail sent Friday to a Western news agency in the name of the "Arab Socialist Baath Party — Iraq Command" said al-Douri died at 2:30 a.m. Friday but gave no indication of the cause. Al-Douri had been in poor health for years.

Arab satellite television stations broadcast the report of al-Douri's death late Friday based on the e-mail but said they had no independent confirmation. U.S. and Iraqi officials in Iraq also said they were aware of the report but could not verify it.

In Amman, Jordan, a member of the Jordanian branch of the Baath Party said he read the Web statement and appeared to consider it accurate.

"He died while holding a gun and remained a leader for the resistance and liberation forces, rejecting American terrorism and Persian rule in Iraq," said lawyer Ziad al-Najdawi, who has ties to Saddam's family.

Al-Douri, born in 1942, had been a close associate of Saddam throughout his rule and officially was the No. 2 man in Iraq's ruling hierarchy when the Baath regime collapsed as U.S. troops occupied Baghdad in April 2003. He was No. 6 on the American "deck of cards" of most-wanted fugitives.

Al-Douri, who had a reputation for ruthlessness, played a key role in the 1968 coup that brought the Baath party to power and in later years served as vice chairman of the Revolution Command Council. His daughter briefly was married to Saddam's son, Odai, but the marriage ended in divorce.

He was placed in command of Iraqi forces in the north just before the U.S.-led invasion in March 2003 but escaped the U.S. dragnet after organized resistance collapsed. Several family members, including his wife, were detained in late 2003 in hopes of pressuring him into surrendering.