Teenage girl takes on beer binge
By Echo Shan (chinadaily.com.cn)
Updated: 2005-11-13 16:36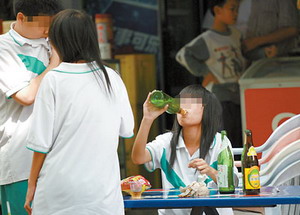 A teenage girl dressed in school uniform gulps down a bottle of beer as her school fellows look on at a roadside drink stall in Haizhu District of Guangzhou, South China's Guangdong Province on November 12, 2005. The bold girl is seen later vomitting due to the beer binge. [Guangzhou Daily]
China Banning alcohol sale to minors
China has come up with a first nationwide regulations on managing alcohol sales, including a ban on selling alcohol to minors, China Youth Daily reports.
The "Alcohol Circulation Management Regulations" enacted Thursday by the nation's Ministry of Commerce are set to get into effect January 1, 2006.
The regulations set up systems to supervise alcohol venders, and include a registration and tracing system.
The new rules also stipulate that trade administration departments at all government levels cannot block or undermine the legal circulation of alcohol products. This is being widely viewed as an effort by the central government to curb protectionism in regional trade.
The report did not say how those who don't obey the new regulations would be punished.
The action follows a recent trend in some major urban areas. In March of this year, the Shanghai municipal government carried out a rule banning the sale of alcohol to minors, the Xinhua news agency said.
According to that regulation, selling cigarettes and alcohol to minors is banned.
Adults cannot help minors buy such products, nor are they permitted to smoke in school classrooms, libraries or any location where children are frequently present. All stores selling cigarettes and alcohol are required to post "No Cigarette and Alcohol Sales to Minor" warning signs.