UN's Annan denounces terror strikes
(CNN)
Updated: 2005-11-13 15:23
United Nations Secretary-General Kofi Annan -- the latest top diplomat to visit volatile Iraq -- on Saturday denounced the deadly terror strikes coursing through the Middle East and called for Iraqis to reconcile.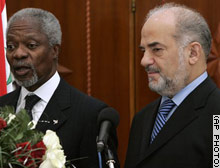 U.N. Secretary-General Kofi Annan and Iraqi Prime Minister Ibrahim al-Jaafari after talks Saturday. [AP]

"This region, and particularly Iraq, has suffered too much from terrorist attacks," Annan said during his first visit to Iraq since the March 2003 U.S.-led invasion.

"Even those who are at a distance feel the pain and the misery that is being inflicted on families and innocent citizens," he added.

Annan told reporters he talked with Prime Minister Ibrahim al-Jaafari and other Iraqi politicians during a stop that followed visits earlier this week of U.S. Secretary of State Condoleezza Rice and British Foreign Secretary Jack Straw.

The officials braved the region's violence to offer solidarity to the transitional government and its efforts to build democracy.

Annan spoke in the capital as a car bomb reverberated in a market in another part of Baghdad, killing at four women and wounding 40 other people.

Annan: Reconciliation vital
He urged Iraqis to embrace a process aiming to reconcile the country's ethnic and religious groups.

"Reconciliation is absolutely vital in Iraq," Annan said, adding that the U.N. supported all efforts to bring peace to the country.

On Friday, Annan visited the Grand Hyatt and Radisson hotels in Amman -- two sites struck Wednesday by suicide bombers. A third hotel, a Days Inn, was also targeted. Fifty-seven people were killed in the bombings and more than 90 injured.

Annan expressed his solidarity with Jordan's King Abdullah II and renewed his call to the U.N.'s member states "to agree on a comprehensive convention against terrorism."

"It can be done, and it is essential that this convention be adopted by the end of the year," Annan said.

The diplomatic stops came amid U.S. and Iraqi operations in the fight against insurgents and reports that a top insurgent leader had died.

Report: Insurgent leader dead
Government commandos launched major raids in the Baquba area that netted more than 380 arrests and U.S. and Iraqi forces wrapped up Operation Steel Curtain near the Syrian border in western Iraq.

The U.S. Marines said Saturday that U.S. and Iraqi forces carrying out Operation Steel Curtain "are in the final phases of clearing operations" in Karabila, a border town with an insurgent presence.

Earlier, Arabic-language news network Al-Arabiya reported that Saddam Hussein's former deputy, Izzat Ibrahim al-Douri, has died. The report quoted a Baath Party statement.

CNN has not been able to confirm the death, and previous reports of Ibrahim's death or capture have proven to be unfounded. Al-Arabiya gave no details on how or where he died. (Watch: Who is Izzat Ibrahim al-Douri? -- 1:30)

Ibrahim was named the most senior member of the former regime still at large and had been an insurgent leader. He is sixth on the U.S. military's list of the 55 most-wanted Iraqis, with a $10 million reward offered for his capture. (Reward offered)

Baquba raid
More than 380 people were detained in the Baquba raid. Among them were: Khalid al-Sanjari, deputy mayor of Baqub; Ayad al-Ajeeli, deputy dean of Diyala University's College of Education and a member of the Islamic Party; and Sheikh Mohammed Kamil, a city council member and a senior member of the Islamic Party, Maj. Gen. Mohammed Hasan of the Interior Ministry and the brigade commander told CNN.

The Islamic Party issued a statement condemning the raids and detention of Sunnis in Baquba. One of those detained, the party said in the statement, was a party member who holds the position of deputy chairman of Baquba's courthouse.

The Ministry of Interior's police commandos, Wolf Brigade, began the raid on the Tahreer neighborhood at about 6:30 a.m., Hasan said. The operation on the neighborhood ended about three hours later, he said, and the brigade went on to raid the town of Kan'an in eastern Baquba.

"We were very well-received by the people of Baquba," Hasan said. "People are fully cooperating, providing us with all the information needed to capture all terrorists. We came upon the request of the residents of the city, and we shall remain here until we clean the city from all the terrorists."

During the raid, roads in and out of Baquba were blocked, and the streets were almost empty.

Earlier on Saturday, an insurgent was killed and an insurgent group was captured when they were preparing to launch a strike on a checkpoint near the city, the U.S. military said.

Insurgents engaged the 3rd Infantry Division's 3rd Brigade with rocket-propelled grenade and small-arms fire, but were quickly overwhelmed by the patrol.