Gov. Schwarzenegger embarks on China visit
(AP)
Updated: 2005-11-13 14:21
LOS ANGELES - Gov. Arnold Schwarzenegger plans to jet to China and Hong Kong this weekend, where he'll try to exchange his blistered campaign image for the role of celebrity statesman and retailer.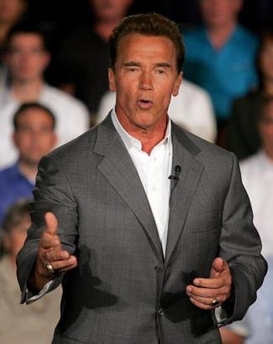 California Gov. Arnold Schwarzenegger talks with supporters during his third 'Conversations with Californians,' a town hall-style meeting Friday, Sept. 16, 2005, in San Diego. Schwarzenegger confirmed an open secret Friday, telling supporters that he's running for re-election next year _ an early announcement designed to re-energize his sagging political momentum. [AP]


The Republican governor's long-scheduled, six-day tour will take him to Beijing, Shanghai and Hong Kong to promote trade along the Pacific Rim. He'll arrive Monday with a group of nearly 80 corporate and business executives eager to sell products from pharmaceuticals to chardonnay to Mickey Mouse.

For Schwarzenegger, the trip provides a convenient opportunity for favorable publicity just days after his collapse at the polls — voters rejected all four of his "year of reform" ballot proposals Tuesday, severely downsizing his Terminator political reputation.

The China trip "does have the effect of changing the subject," said Jim Brulte, the state Senate's former Republican leader.

Schwarzenegger is scheduled to leave California Sunday and arrive Monday in Beijing, heading directly to a Special Olympics ceremony and an evening reception with the members of his business entourage.

Along with business meetings and forums to pitch California products, Schwarzenegger will attend a film premiere in Shanghai, give a speech at Qinghua University and tour a steel factory.

Nearly 80 companies and trade groups are sending executives to accompany the governor, including the Walt Disney Co., Miller Brewing, Rupert Murdoch's News Corp. and Pfizer Inc., according to the governor's office.

A business-connected foundation is picking up part of the trip's costs in an arrangement that alarmed good-government advocates.

Many costs for Schwarzenegger and his aides will be paid by the tax-exempt California Protocol Foundation, which is soliciting contributions of up to $50,000 from business donors, The Sacramento Bee reported last month. The foundation, affiliated with the California Chamber of Commerce, is not disclosing its contributor list, the newspaper said.

"This is a government getting favors from who knows?" said Robert Stern, president of the Center for Governmental Studies. "It's important we know who is trying to curry favor with the governor."

Schwarzenegger spokesman Rob Stutzman said the foundation had funded trips for two previous governors.

"They're onto us," Stutzman said in an e-mail. "We're trying to improve California businesses. Guilty."