China reports new bird flu outbreak in Hubei
(AFP)
Updated: 2005-11-13 09:53
China reported its eighth outbreak of bird flu in less than a month, as Thai authorities rushed to investigate the first confirmed human infection in the capital Bangkok.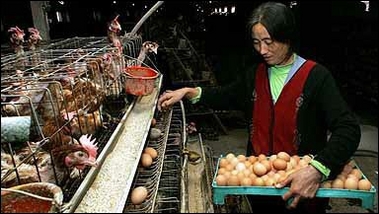 A woman collects eggs at her poultry farm on the outskirts of Huhhot -- the capital of China's Inner Mongolia region -- in October 2005. China reported its eighth outbreak of bird flu in less than a month, as Thai authorities rushed to investigate the first confirmed human infection in the capital Bangkok. [AFP]


As China stepped up its battle against avian flu, the focus returned to the nation's vast rural interior where 2,500 birds was reported dead in a new outbreak.

The latest outbreak occurred in two villages in Jingshan county, part of central China's Hubei province, the agriculture ministry said Saturday in a statement on its website.

Health officials have culled more than 31,300 birds on farms within a radius of three kilometers (around two miles) from the outbreak, according to the ministry.

Birds started dying on farms in the Jingshan area on November 2, and a preliminary diagnosis of avian flu was made on November 9, the ministry said.

Officials in Hubei contacted by AFP early Saturday were either unavailable or declined comment.

The Hubei outbreak is the eighth since last month, when avian flu suddenly returned to China after a lengthy lull, apparently affecting the northeastern province of Liaoning most severely.

Hubei is squeezed in between Anhui and Hunan, two other provinces where avian flu has also been confirmed since last month.

China has so far not reported a single confirmed human case of bird flu, although official fears are mounting over possible human infections.

Health and agricultural departments in Liaoning said Friday a female chicken farmer from Heishan county, the location of the first outbreak in Liaoning, was being investigated for bird flu, making her the fourth suspected human case.

The details of the three other suspected cases -- including a 12-year-old girl who died -- were being investigated Saturday by experts from the World Health Organization (WHO) working with Chinese officials, according to the WHO.

In Beijing, home to 14 million people, authorities have screened 850,000 people in an effort to detect any abnormal disease patterns, the Beijing Youth Daily reported.

"So far, no inexplicable cases of pneumonia or human flu have been discovered," the paper said, citing municipal health authorities.

On Friday, the health ministry issued a new circular, emphasizing the need for rapid reporting through the public health system, according to the Beijing News.

Hospitals in cities should report suspicious flu cases to the medical authorities within two hours, while hospitals in suburbs will have six hours to do the same, the paper said.

Mass culling of poultry is the Chinese government's weapon of choice when seeking to curb outbreaks, but the cost to the affected rural communities is devastating, according to state media.

"Slaughtering poultry has brought huge losses to farmers," Vice Agriculture Minister Yin Chengjie told a seminar in Beijing, according to the China Daily newspaper.

The government has offered compensation of 10 yuan (1.2 dollars) to farmers for each bird killed, but that is not enough, according to Yin.

"It cannot make up for the huge losses for farmers, as in some provinces, nearly half of their income is derived from poultry rearing," he said according to the paper.