Thousands mourn Rabin, 10 years later
(AP)
Updated: 2005-11-13 09:46
Tens of thousands of Israelis packed the Tel Aviv square where Yitzhak Rabin was assassinated 10 years ago to mourn the former prime minister and express hope that his memory would spur new peace talks between Israel and the Palestinians.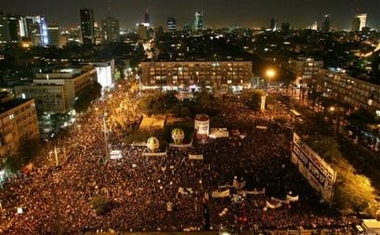 Thousands gather at Tel Aviv's Rabin's square during a rally marking 10 years since the assassination of the late Israeli Prime Minister Yitzhak Rabin Saturday Nov. 12, 2005. Rabin was killed by a Jewish ultra-nationalist on Nov. 4, 1995. [AP]


Rabin's killing by an ultranationalist Jew opposed to the premier's peace efforts with the Palestinians stunned the country, revealing the depths of Israel's internal conflicts and badly damaging chances for peace.

"I loved him very much, and I was in awe of his ability to move from being a soldier to being a peacemaker, a politician to a statesman," said former President Clinton, who forged a deep bond with the Israeli leader as they sought to broker Mideast peace.

"If he were here, he would say, 'There is enough of all this missing. If you really think I lived a good life, if you think I made a noble sacrifice in death, than for goodness sakes take up my work and see it through to the end,'" Clinton said.

Clinton ended his speech by saying "Shalom Haver," Hebrew for "Goodbye friend," the same words he used to bid farewell to Rabin at the Israeli leader's funeral.

Security at the rally Saturday was tight, with 1,500 police and security personnel deployed out of fear that Palestinians or right-wing Jews would attack, police said. There were no reports of violence or arrests.

Mourners sang songs of peace, held candles and waved Israeli flags as they remembered Rabin as a strong leader who loved his people and made the ultimate sacrifice for peace.

Images of Rabin, who won a Nobel Peace Prize for signing the Oslo interim peace accords with the Palestinians, played on a huge television screen towering over the square where Rabin addressed a peace rally a decade ago, minutes before he was killed.

"I stood here with him exactly 10 years ago. I was able to see what he saw, you wonderful people, you young people jumped into that pool there, cheering 'Long live peace, long live Yitzhak.' He was moved to the depths of his soul by that love and support." said Vice Premier Shimon Peres, who shared the Nobel Prize with Rabin and Palestinian leader Yasser Arafat.

"I'm calling on you, get into political life and with your strength carry the load of peace for the state of Israel," Peres said. "Peace is in your hands."

Many mourners had been here 10 years earlier, watching Rabin speak in the square that now carries his name. Organizers said 200,000 people attended the rally on Saturday — two days before the anniversary of Rabin's death on the Jewish calendar.

"This is not just the (memorial) for a man but also for a direction," said Charles Abelsohn, 63. "By being here tonight, it will re-energize the peace process."

Rabin was shot and killed as he left the rally on Nov. 4, 1995, by Yigal Amir, an extremist Jew who considered Rabin a traitor for making concessions to the Palestinians. Amir is serving a life sentence for the killing.

Since his slaying, relations with the Palestinians have steeply deteriorated, finally collapsing in a wave of violence that began more than five years ago. Efforts to revive peace talks have faltered.

"It's been unbelievably 10 years since that dark day when we lost Yitzhak Rabin and what I still believe is our best chance for a comprehensive and lasting peace," Clinton said at a conference in Jerusalem before the rally. "Not a week has gone by in those 10 years when I have not thought of his family, his allies and Israel's struggle."

Amir Peretz, the new leader of Rabin's Labor Party, said Rabin's sacrifice had not been in vain. "The way of Oslo is still alive and well. The way of Oslo is still the path to peace," he said.

Even those from the other side of the political spectrum came to pay their respects.

Justice Minister Tzipi Livni, from the hawkish Likud Party, called Rabin a "father, teacher, friend" and denounced the use of violence against political opponents.

Former Rabin aide Eitan Haber said that if Israel wanted to preserve Rabin's memory "to walk his path of peace and security," Israelis of all political beliefs should gather next year for another memorial.

"Tears have no political color, they are all equally salty," he said.

Many in the crowd were teenage members of youth peace movements who had participated in seminars about Rabin's legacy before the memorial.

"Rabin stood for democracy and peace," said Tomer Ben Nun, 15. "I came here because I don't want to forget."