China reports new bird flu outbreak in Hubei
(Xinhua/Reuters)
Updated: 2005-11-12 16:20
China has confirmed a fresh outbreak of the deadly H5N1 bird flu virus in poultry in its central Hubei province, the Hong Kong government said on Saturday, Reuters reported.

"The Health, Welfare and Food Bureau received notification from the Ministry of Agriculture of the Mainland last night, of an H5N1 avian influenza outbreak among poultry in Jingshan country in Hubei province" the Hong Kong government said in a statement.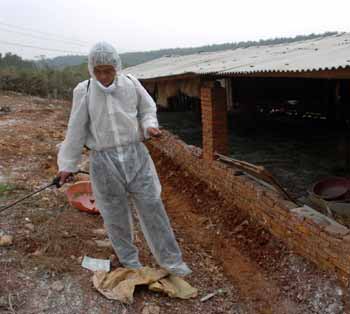 A Chinese medical worker sprays disinfectant at a rurual poultry farm in Central China's Hubei Province after a fresh outbreak of bird flu on Saturday, November 12, 2005. [Xinhua]

This latest outbreak comes as China is battling to control seven other outbreaks since the beginning October.

Liaoning rules out six suspected bird flu outbreaks

The Liaoning Provincial Control Office of Highly Pathogenic Avian Flu on Saturday ruled out six suspected highly pathogenic bird flu outbreaks in this northeast China's province.

Zhou Liyuan, spokesman for the office, told a press conference that the judgement was concluded as the quarantine tests conducted by the provincial animal epidemic prevention station lab turned out negative of highly pathogenic avian flu virus.

The office has erased Nanwa Village in Xinmin City of Shenyang, Jintun Village of Jinzhou City, Bajiazi Village of Jinzhou, Guojia Village of Jinzhou, the Beizhen Street of Beining City in Jinzhou and Yujiatun Village of Heishan County from the bird flu blacklist.

In bird flu-hit Heishan County, no new cases have been reported for recent two days. In bird flu-hit Beining City, no new cases have been reported for recent four days. In Nanzhan New District of Jinzhou, no new cases have been reported since November 6. In New Mongolia Autonomous County of Fuxin City, no new cases have been reported since November 8, as listed by the spokesman.

He said that the provincial government has allocated 15.5 million yuan (1.9 million US dollars) to compensate the farmers for their loss of poultry culling. A total of 265.8 million yuan (33 million US dollars) have been put in the epidemic prevention in the province.

Zhang Wenyue, governor of Liaoning Province, has pledged the government would compensate farmers for every poultry culled for the epidemic prevention.

According to the province's compensation standard, farmers are compensated with 10 yuan (1.25 dollars) for each of their chickens and duck slaughtered in quarantine, 15 yuan (1.87 dollars) for a goose and 5 yuan (0.65 dollar) for every young fowl.

The spokesman said that hospitals in bird flu-hit areas in Liaoning have been ordered to accept flu patients regardless of medical charges, which will be later drawn from the provincial finance.