Remains of Jordan bombing victims back
(Xinhua)
Updated: 2005-11-12 16:16
The Chinese working team, dispatched to handle the aftermath of the Wednesday's bomb attacks in Jordanian capital Amman, came back to Beijing Saturday morning, with the remains of the three Chinese victims aboard the same plane.
Three Chinese were killed and one wounded Wednesday evening in the bomb attacks against three hotels in Amman. The victims were members of a delegation from China's University of National Defense(CUND), which happened to stay in one of the hotels.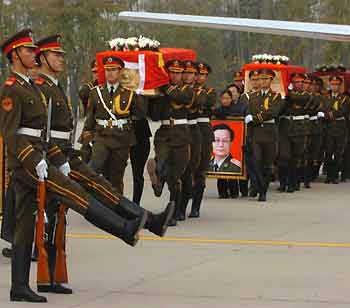 The caskets carrying the remains of the three Chinese victims in Jordan bombings arrive at an airport in Beijing on Saturday, November 12, 2005. Surviving members of the delegation from China's University of National Defence also flew back to Beijing on Saturday.[Xinhua]


The victims killed was identified as Sun Jingbo, Pan Wei and Zhang Kangping at the age of 41, 44 and 42, respectively.

Their remains were escorted to the Babaoshan Funeral Parlor Saturday.

The wounded, 42-year-old Yao Liqiang, suffered from a leg fracture. He was immediately sent to hospital after arriving in Beijing.

Led by CUND's Vice President Zhao Gang, the working team consisted of officials from the Chinese defense and foreign ministries, as well as family members of the victims.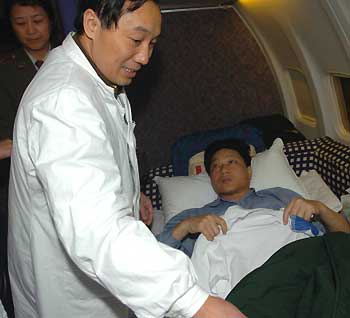 A doctor attends to Yao Liqiang injured in the Jordan bombings aboard a plane bound for Beijing on Saturday, November 12, 2005.[Xinhua]

Liang Guanglie, chief of general staff of the Chinese People's Liberation Army and a member of China's Central Military Commission, Chinese Vice Foreign Minister Dai Bingguo, and Anmar Abdulhalim Namir Harmud, Jordanian Ambassador to China, among the people to meet the working team and express sympathy and solicitude for the family members of the victims and the wounded upon their arrival in the airport.

During the working team's five-hour stay in Jordan, Jordanian King Abdullah II met with the working team and the CUND delegation, expressing condolence to Chinese victims in the bomb attacks.

The Jordanian side facilitated the Chinese working team's work when the team dealt with the aftermath of the bombing attacks in Amman.

Top Chinese leaders,including President Hu Jintao and Premier Wen Jiabao, conveyed their deep condolences over the death of the victims to their relatives on separate occasions Thursday.