No pigs infected by bird flu in Hunan - official
(Xinhua)
Updated: 2005-11-12 10:33
No pigs have been infected by bird flu in a region where an outbreak was reported in central-south China's Hunan Province, the provincial government announced Friday.
"The recent reports by some media that the bird flu virus was found in pigs in the epidemic site are unfounded and have no scientific evidence," Qiu Bogen, chief officer of the provincial veterinary office, said at a press conference.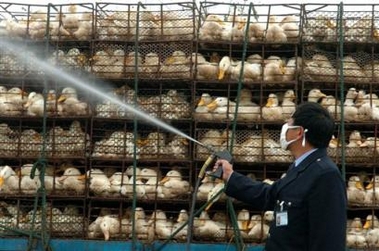 A medical worker disinfects a poultry farm in Xuyi county, East China's Jiangsu Province Friday, Nov. 11, 2005.[AP]

Blood samples taken from pigs, ducks, and chickens beyond a 3-km-radius of the bird flu area in Wantang Village, where the first such case in the province was found last month, all tested negative for the H5N1 virus, Qiu said.

"The situation is stable and the provincial headquarters for bird flu control is considering to be lifting the quarantine," said Ou Daiming, deputy director of the provincial agriculture department.

But with the coming of the migratory birds and the cold rainy season, he acknowledged, the fight against bird flu still faces a grave challenge.