Hu meets German leaders on expanding ties
(Xinhua)
Updated: 2005-11-12 08:55
Chinese President Hu Jintao said in Berlin Friday that China stands ready to join hands with Germany to deepen bilateral cooperation based upon the already-good relations.
During his meeting with Germany's outgoing chancellor Gerhard Schroeder at the chancellor's office, Hu said that Schroeder has, over the past seven years in office, made significant contributions to the friendly relations between China and Germany.
Schroeder said he has deep affection for China and President Hu is the last head of state he has met as the German chancellor, adding this fully shows that the two nations and their leaders enjoy a close relationship.
Speaking about bilateral relations, Hu said that fruitful cooperation between China and Germany has brought concrete benefits to the two peoples, and also promoted world peace, stability and prosperity.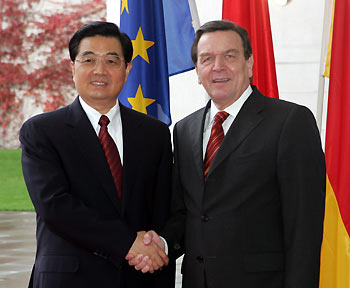 Chinese President Hu Jintao (L) shakes hands with Germany's outgoing chancellor Gerhard Schroeder in Berlin Friday, November 11, 2005. [Xinhua]

Germany is China's largest trading partner in Europe and China is Germany's largest in Asia. Germany is also the first developed country to have signed law exchange and cooperation agreements with China and jointly built science-promotion centers with China.

Hu told Schroeder that China will steadfastly attach importance to developing relations with Germany.

To push the relations to a new high, China hopes that both sides will intensify high-level contacts, enhance political mutual trust and strategic coordination, expand bilateral economic and trade cooperation, promote mutual investment and increase cooperation in humanities and culture, the Chinese president noted.

Schroeder told Hu that the one-China policy is the foundation of Germany's policy toward China and there will not be any change to it.

German-Chinese relations have entered a phase of an all-round development, Schroeder said. Besides the fruitful achievements in trade and investment cooperation, the two sides have also made constant progress in cultural, educational and high-tech exchanges and cooperation, he added.

Talking about energy cooperation, Hu said that the energy issue is an important factor influencing the sustainable development of the world economy.

He said China attaches great importance to the development and use of energy resources, especially water, solar and biological energy, to achieve sustainable development.