Farmers left counting cost of virus
By He Na and Wu Yong, Fu Jing and Zhao Huanxin in Beijing (China Daily)
Updated: 2005-11-12 06:37
Culling poultry for bird flu prevention has proven a double-edged sword. While it could help curb the rampage of the deadly virus, it has had a huge impact upon farmers' incomes.
This was a big concern for Vice-Minister of Agriculture Yin Chengjie, who said slaughtering poultry has brought huge losses to farmers.
He told a seminar on Friday in Beijing the government has compensated farmers 10 yuan (US$1.2) for each bird killed, but "it cannot make up for the huge losses for farmers, as in some provinces, nearly half of their income derived from poultry rearing."
Last year, per capita net income of Chinese farmers reached 2,936 yuan (US$362), up 6.8 per cent year on year the highest increase rate since 1997.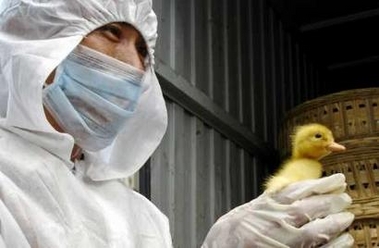 A Chinese animal inspector examines a bird coming from other provinces at a port in Haikou, in Hainan Province November 10, 2005.[Reuters]

Such a high rate is difficult to sustain this year, but the 5 per cent growth goal, set at the beginning of this year, is achievable if the "bird flu epidemic can be stamped out very soon," said Jiang Zhenghua, vice-chairman of the Standing Committee of the National People's Congress.

In addition to the bird flu outbreak, this year's slow growth in farmers' incomes is also attributable to dormant grain prices, increase in cost of production materials and impact of China's entry into the World Trade Organization, according to sources at the seminar.

New outbreak

The Ministry of Agriculture has announced that 2,500 poultry in Jiangshan County of Central China's Hubei Province have been killed by the fatal H5N1 strain of bird flu.

The eighth case reported on the mainland occurred in two townships of Jingshan on November 2, and was confirmed to have been caused by the H5N1 strain by the National Avian Influenza Reference Laboratory on Friday.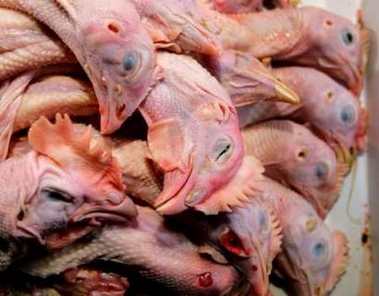 Dressed chickens are displayed for sale at a market in Beijing November 10, 2005. [Reuters]

Local authorities have ordered the culling of 31,313 fowls within a 3-kilometre-radius of the area.

Meanwhile, the country's seventh bird flu outbreak has killed 300 chickens in Northeast China's Liaoning Province, prompting the already afflicted province to cull another 2.5 million fowls, the ministry said on Thursday.

The case occurred in Beining, near the city of Jinzhou, on November 6.

Also, Central China's Hunan Province announced on Friday that no pigs have been infected by bird flu in any part of the province.

Human vaccine

In a related development, a leading disease control official said China has completed pre-clinical research on human vaccines against H5N1 bird flu, Xinhua reported on Thursday. "Chinese scientists and vaccine developers have finished the pre-clinical research and applied for clinical trials from the State Food and Drug Administration to further test the vaccines' safety and effectiveness," the report quoted Wang Yu, director of the Chinese Centre for Disease Control and Prevention, as saying.

Tamiflu production

In Shanghai, the Shanghai Pharmaceutical Group Co Ltd (SPG) said it is awaiting Roche's response to its application for the patent transfer of Tamiflu. "Roche is now studying our application, but this type of application process can take as long as one year," said SPG spokesman Yin Qinxie.

(China Daily 11/12/2005 page2)