Briton to trace steps of Long Marchers, again
By Xu Binglan (China Daily)
Updated: 2005-11-12 06:37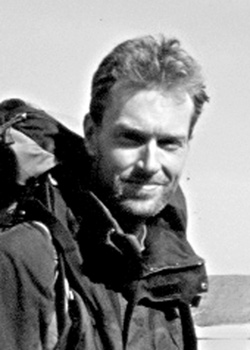 Ed Jocelyn: "You've got to be quick"
A British historian who retraced the main route of the Long March two years ago is to hit the road across China again.
Ed Jocelyn, 37, will team up with Yang Xiao, a Chinese man of the same age, to follow the route of the Red Second Front Army, which went a different way to the Red First Front Army led by Mao Zedong.
According to the "new long marchers," the New Long March II is scheduled to begin on November 19 from Liujiaping, Sangzhi County, in Central China's Hunan Province. The two men expect to walk about 5,000 kilometres, reaching their destination, Jiangtai Xiang, in Northwest China's Ningxia Hui Autonomous Region, on October 22, 2006 the 70th anniversary of the end of the Long March.
"We found the Second Front Army has been somewhat overshadowed by the First Front. But it was actually also a crucial part of the Long March story," said Jocelyn.
Jocelyn, who has a PhD in history, said he was fascinated by the history of the Long March.
As the youngest Long March survivors are already in their 80s, he said: "You've got to be quick to talk to them to get first-hand material."
In the first New Long March, between October 2002 and November 2003, Jocelyn teamed up with Andrew McEwen, who became seriously ill towards the end of the adventure. McEwen recovered but is not taking part in the second march.
Jocelyn and McEwen once worked as copy editors for China Daily.
During the 2002-2003 march, Jocelyn and McEwen talked to 10 veterans of the Long March.
They also spoke with many people who claimed to be robbers, landlords and ordinary villagers when the Red Army walked through and fought around their towns and villages.
The majority of the people they talked to were excited to talk to foreigners because they all live in poor places and rarely see visitors from other parts of China, let alone from foreign countries.
He said that for the up-coming journey, he and Yang have interviewed eight veterans from the Second Front Army.
The main part of the Second Front's route was to the west of the First Front. Half of the roads Jocelyn and Yang aim to cover will be on sparsely-populated plateaus.
"To obtain sufficient food could be a challenge in these areas because you might walk for a couple of days without seeing any village or other human beings," said Yang.
Another nuisance might be dogs, which attacked the team in the first New Long March. Yang said he has been trying to obtain something known as "bear spray," which is used by trekkers to deter bears.
(China Daily 11/12/2005 page2)