Beijing unveils mascots for Olympics
(AP)
Updated: 2005-11-11 21:12
A plethora of real and mythic creatures were among the candidates considered by Chinese leaders, Olympic officials and design specialists over the past year. Among those that didn't make the cut were the dragon and a mischievous magical monkey out of Chinese folklore.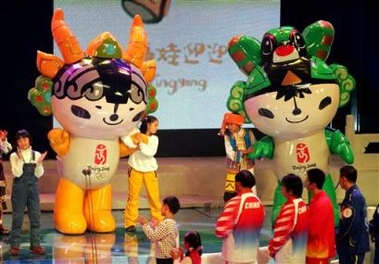 Two of the five mascots for the 2008 Beijing Olympic Games are displayed on stage after being unveiled in Beijing's Workers' Stadium Friday, Nov. 11, 2005. The announcement of the mascots, known as the 'five friendlies' at an elaborate, nationally televised gala, opens a marketing blitz that is expected to reap record profits from sales of licensed Olympic products. [AP]
The choice, the subject of lively media speculation for months, has been a secret since it was finalized three months ago, sealed by confidentiality agreements.
At stake for China is one of the most marketable symbols in the Olympics — a symbol that stands to generate significant revenues and public support for the Beijing Games, which will cost an estimated $38 billion.
Sales of licensed products, including those with the mascot, brought in about $300 million at the 2000 Sydney Olympics. Host cities keep 10 to 15 percent of the royalties, helping to defray the costs of staging the Games.
Officials with the Beijing Organizing Committee for the Olympic Games say they expect sales of such products to be higher still.
To capitalize on the mascots' publicity, Beijing is launching an extensive marketing campaign. An animated film put together by Han Meilin, who headed the design team, was screened at Friday night's unveiling and is expected to be replayed on Chinese television in coming days.
"This time the mascot design fully combines traditional Chinese culture," Han was quoted as saying by the Chinese Web site, Sina.com.